NEXT STORY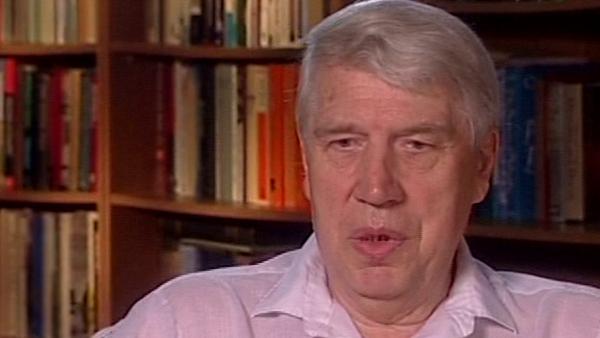 Media misrepresentation of the origin of the human species
Challenging the Eve molecule hypothesis
1
...
7
8
9
10
11
At that time there was a hypothesis put forward that all humans originated from the so-called Eve... molecular Eve or mitochondrial Eve. Mitochondrial because it was... originally the study was on mitochondrial DNA. I don't know whether the authors of the original studies really meant literally what the hypothesis... or how the hypothesis was interpreted, but certainly when the paper was published in Nature, the editorial made clearly that impression that this... there was a single female from whom all humanity was derived. Well, we already knew something about the MHC polymorphism and we knew that a great deal of the polymorphism arose certainly before the divergence of humans' and chimpanzees' ancestors and other studies indicated that the divergence occurred much longer time before this divergence, and that meant that a large number of different alleles had to be transferred from ancestors of human to modern humans. Large numbers because one individual can transfer maximally only two alleles for each gene and there are a number of genes so the number of combinations is also large and if you look at this combination it appeared that these combinations too were transferred, so, it seemed inconsistent with this hypothesis.
Well, the hypothesis was obviously wrong in the literal sense that it was understood by general public, by the media, and as appears also by some of the writers of editorials in scientific journals. It was wrong because... or it was misunderstood because without going into much details, it said only one thing that the variants of the mitochondrial DNA that are now present in human population can be traced back to a single founding mitochondrial DNA. It said nothing about the individuals, that there was only one individual... that there was one mother from whom we are all derived, from one Eve, that referred to a single molecule. And there are 30,000 or more of genes in the human genome and every one could be derived in this way from some founding molecule. It's in the nature of the process that the diversification of the molecule occurs that if you do an analysis in your mind, then you can come back always to a single molecule and a single molecule is different of course for each of the genes, but also is not derived or did not come to the same individual. That could come from different individuals at different times. So all this was inconsistent and the whole hypothesis or the extension of the hypothesis seemed a nonsense to me.
Born in 1936, Jan Klein is a Czech-American immunologist who co-founded the modern science of immunogenetics – key to understanding illness and disease. He is the author or co-author of over 560 scientific publications and of seven books including 'Where Do We Come From?' which examines the molecular evolution of humans. He graduated from the Charles University at Prague in 1955, and received his MS in Botany from the same school in 1958. From 1977 to his retirement in 2004, he was the Director of the Max Planck Institute for Biology at Tübingen, Germany.
Title: Challenging the Eve molecule hypothesis
Listeners: Colm O'hUigin
Colm O'hUigin is a senior staff scientist at the US National Cancer Institute. He received his BA, MSc and PhD at the Genetics Department of Trinity College, Dublin where he later returned as a lecturer. He has held appointments at the Center for Population and Demographic Genetics, UT Houston, and at the University of Cambridge. As an EMBO fellow, he moved in 1990 to the Max Planck Institute for Biology in Tübingen, Germany to work with Jan Klein and lead a research group studying the evolutionary origins of immune molecules, of teeth, trypanosomes and of species.
Tags: molecular Eve, mitochondrial Eve, Nature, mitochondrial DNA, MHC polymorphism
Duration: 4 minutes, 31 seconds
Date story recorded: August 2005
Date story went live: 24 January 2008