NEXT STORY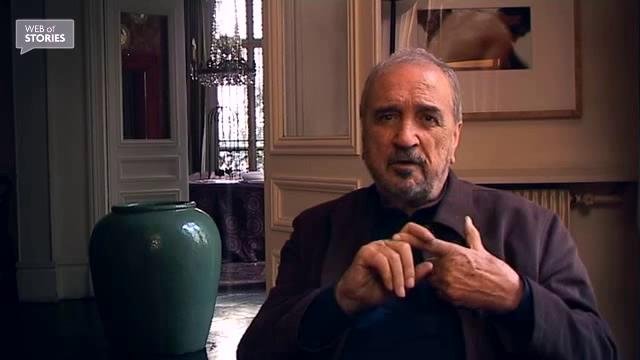 Meeting Peter Brook
Paris 1968: the irrational and the unreal
Jean-Claude Carrière
Film-maker
1
...
3
4
5
6
7
8
There was no petrol for cars in May '68, so traffic was easy in Paris, with very few cars around. I discovered that thing, that if you rent a car, it has a tank full of petrol, and with that petrol, you can drive for a few days in Paris. So I drove a lot in Paris, picking up hitchhiking girls on my way, taking people all over the place... I have that memory of '68, quite rare, of having driven a lot in Paris, and becoming interested in everything I was seeing. I saw… later, one of my great Spanish friends, poet and philosopher, José Bergamin, whom I met up with a lot, I even translated one of his books into French, Le Clou brûlant, he was friends with André Malraux, and he was in Paris at that time, he was very sophisticated... and he had lunch one day with Malraux, a minister at the time, and Malraux has a car to come and pick him up at the restaurant, a car with a driver, and Malraux asks his friend, 'Do you want us to drive you somewhere?' They are on the Concorde Bridge and Malraux in going to the Chamber of Deputies and says to Bergamin, 'Where are you going?' 'Oh, well, to the Sorbonne', which was at the heart of the student movement and talks. And Malraux said, 'I see, you go towards the irrational, and I towards the unreal'. And those two words struck me as being not defining '68, that would be absurd, but giving the impression that there was that irrational part on the one hand, which according to Buñuel rules over the world, and on the other there was that unreal, that political power that keeps gesticulating in the void.
Il n'y avait pas d'essence en mai '68, donc la circulation était très facile à Paris, il y avait très peu de voitures. J'ai découvert un truc, c'était que si je louais une voiture chez un loueur de voiture, personne n'y pensait, quand on vous loue une voiture elle a le réservoir d'essence plein depuis avant '68, et avec un réservoir d'essence plein on peut rouler plusieurs jours à Paris. Donc j'ai beaucoup, beaucoup roulé dans les rues de Paris en prenant des filles au passage, en autostop, en transportant des gens de droite à gauche… j'ai ce souvenir de '68, très rare, d'avoir beaucoup conduit dans Paris c'est vraie et de m'être beaucoup intéressé à tout ce que je voyais. J'ai vu… Plus tard, m'a raconté un de mes grand amis espagnols José Bergamin qui était poète et philosophe que j'ai beaucoup connu, j'ai même traduit un de ses livres en français Le Clou brûlant, c'était un ami d'André Malraux, il se trouvait à Paris à ce moment là, très fin, un espagnol très raffiné… Bergamin, et il déjeune un jour avec Malraux qui est ministre à ce moment là et Malraux, il y a une voiture qui vient le chercher au restaurant, une voiture officielle avec chauffeur et il dit à son ami: veux-tu qu'on te dépose quelques part? Ils sont sur le pont de la Concorde, et Malraux va à la chambre de députés et il dit à Bergamin: «Où est-ce que tu vas?». «Oh, bah… moi je vais à la Sorbonne». Qui donc était un lieu de grande agitation estudiantine et de discussion. Et Malraux lui dit: «Oui je vois, tu vas vers l'irrationnel et moi vers l'irréel». Et ces deux mots me sont restés comme assez profond à ce qui pourrait, non pas définir '68 c'est absurde, mais donner une impression, ce que c'était, il y avait un irrationnel d'un coté, cet irrationnel qui selon Buñuel mène le monde et irréel de l'autre côté, un pouvoir politique qui s'agitait dans le vide.
French screenwriter Jean-Claude Carrière (1931-2021) began his association with films aged 24 when he was selected by Jacques Tati to write for him. This early experience led to further contact with other film-makers, including Luis Buñuel with whom Carrière collaborated for many years. He wrote screenplays for films including Belle de Jour, The Discreet Charms of the Bourgeoisie, Tin Drum and Danton.
Title: Paris 1968: the irrational and the unreal
Listeners: Andrzej Wolski
Film director and documentary maker, Andrzej Wolski has made around 40 films since 1982 for French television, the BBC, TVP and other TV networks. He specializes in portraits and in historical films. Films that he has directed or written the screenplay for include Kultura, which he co-directed with Agnieszka Holland, and KOR which presents the history of the Worker's Defence Committee as told by its members. Andrzej Wolski has received many awards for his work, including the UNESCO Grand Prix at the Festival du Film d'Art.
Tags: Paris, May 1968, Le Clou brûlant, José Bergamin, André Malraux
Duration: 2 minutes
Date story recorded: January 2010
Date story went live: 18 October 2010