NEXT STORY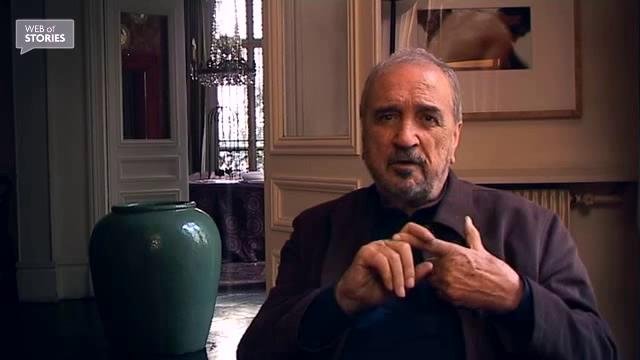 First films
Pictures that shaped my image of the world
Jean-Claude Carrière
Film-maker
1
2
3
4
5
...
8
C'était une époque, en tout cas dans les campagnes, sans image. Moi qui devais passer ma vie plus tard dans les images, dans les sons et dans les mots, je suis né dans un monde sans image. Dans les journaux quotidiens il n'y avait pas des photographies. Les seules photos que l'on pouvait voir c'était dans des magazines qu'on trouvait quelques fois chez le coiffeur dans la petite ville où on allait se faire couper les cheveux, et c'était tout. Très peu des photographies, mes parents n'avaient pas d'appareil de photo. J'ai quelques photos de cette époque-là prisent par des cousins qui venaient en vacances. Donc les seules images que nous avions étaient des images dessinées. C'étaient des images qui venaient souvent des premiers albums de Tintin et Milou, premiers albums d'Hergé: Tintin au Congo, Le crabe aux pinces d'or… et je me rappelle que chaque semaine, on en recevait une planche par semaine dans un journal, et je me rappelle que avec les copains du village on déchiffrait réellement tous les dessins pour savoir comment était fait un avion, comment était fait un bateau… on savait que Hergé était très exact dans ses reconstitutions et, moi, la première vue du Caire que j'ai vu, l'Égypte, ça a été dans un album d'Hergé et j'ai détaillé chaque mosquée, chaque toiture pour savoir comment le monde était fait. Je vivais dans une vallée, dans un village de 500 habitants avec des montagnes tout autour. Nous savions qu'il y avait un monde au-delà des montagnes mais nous ignorions les images de ce monde. Pas de cinéma, pas de télévision bien entendu.
It was a time, at least in the countryside, without any pictures. I, who was destined to spend a life surrounded by pictures, sounds and words, I was born in a pictureless world. In the dailies there weren't any photographs...The only pictures you could ever see were in the magazines that you could sometimes find at the hairdresser, in the small town where we went to get our hair cut, and that was all. Very few photographs, my parents didn't have a camera. I have some pictures from that time, taken by some cousins as they were staying over for a few days. So the only real pictures we had were actually cartoons. They were often pictures from Tintin and Snowy, the first cartoons from Hergé: Tintin in the Congo, The Crab with Golden Claw... and I remember that, each week, we would get one page per week in one of the dailies, and I remember that with all the boys in the villages we would analyse in depth all the cartoons to understand how planes were built, and how boats were... we knew that Hergé was extremely precise in his drawings, and, my first sight of Cairo, the first time I saw Egypt, was in a Tintin book, and I was analysing each mosque, each rooftop to help me understand the world. I was living in a valley, in a village with 500 inhabitants, surrounded by mountains. We knew there was a world beyond those mountains, but we had no pictures of that outside world. No cinema, no television, obviously.
French screenwriter Jean-Claude Carrière (1931-2021) began his association with films aged 24 when he was selected by Jacques Tati to write for him. This early experience led to further contact with other film-makers, including Luis Buñuel with whom Carrière collaborated for many years. He wrote screenplays for films including Belle de Jour, The Discreet Charms of the Bourgeoisie, Tin Drum and Danton.
Title: Pictures that shaped my image of the world
Listeners: Andrzej Wolski
Film director and documentary maker, Andrzej Wolski has made around 40 films since 1982 for French television, the BBC, TVP and other TV networks. He specializes in portraits and in historical films. Films that he has directed or written the screenplay for include Kultura, which he co-directed with Agnieszka Holland, and KOR which presents the history of the Worker's Defence Committee as told by its members. Andrzej Wolski has received many awards for his work, including the UNESCO Grand Prix at the Festival du Film d'Art.
Tags: Tintin, Cairo, Egypt, Tintin in the Congo, The Crab with the Golden Claw, Hergé
Duration: 1 minute, 37 seconds
Date story recorded: January 2010
Date story went live: 26 July 2010