NEXT STORY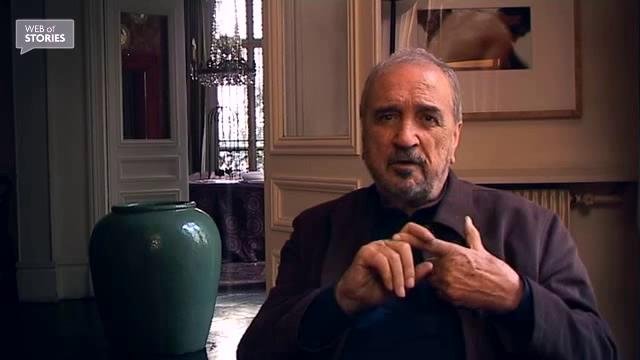 Jeanne Moreau
Jean-Claude Carrière
Film-maker
1
...
4
5
6
7
8
I met Louis Malle quite early, I met him right after The Diary of a Chambermaid, for Viva Maria! He came to me with that completely crazy, really unusual idea of a Mexican comedy about two women set at the start of the century. We often mentioned that the film should be about the dreams of adventure and eroticism of the European teenager at the start of the 20th century. We worked together on several films, like Le voleur, Viva Maria! and later Milou en mai, but even for those films on which we weren't working together he was coming to see me, to read my screenplays, and we would talk about them. He was someone with so much grace in both the way he thought and in his attitude. I liked his reserve, his intelligence and his observational skills. What I really like in his work is that there aren't two films alike... Some people have held this against him, said that he was not a real writer as there was no continuity in his work. But it was because he was a researcher, with each of his films he was trying something new even if sometimes it wasn't his own, even if he could make mistakes. He often came back to his background... I was going to say middle-class, but critiquing, creating satirical works of the high French bourgeoisie... he belonged to... even though he made some very different films, and he finished too soon. He was extremely sick and died within a few months... we felt his loss deeply... but his last work, Vanya 42ème rue, is a real masterpiece because he managed to bring theatre to film in a way that had never been done before. It had been tried before but without any success. It is an exemplary film that we have watched often with Peter Brook who really enjoys it and who said that this film is a benchmark in the awkward link between theatre and film.
Louis Malle je l'ai connu très tôt, je l'ai connu toute de suite après Le journal d'une femme de chambre, pour Viva Maria, il est venu à moi avec ce projet très fou, très étonnant… d'une comédie mexicaine reposant sur deux femmes et se plaçant dans le début du XXe siècle. On se disait souvent que le film devrait représenter les rêves d'aventure et d'érotisme de l'adolescent européen du début du XXe siècle. Louis je l'ai beaucoup aimé. Nous avons fait ensemble beaucoup des films dont Le voleur, Viva Maria plus tard Milou en mai, mais même pour les films sur lesquels je n'ai pas travaillé il venait me voir, il venait me lire ses scénarios, nous en parlions ensemble. C'était quelqu'un d'une grande élégance de pensée et d'attitude. J'aimais ses sentiments, j'aimais ses attitudes de réserve, d'intelligence, d'observation. Ce que j'ai beaucoup apprécié dans son travail, c'est qu'il n'y a pas deux films de lui qui se ressemblent. On a pu le lui reprocher, on a pu lui dire qu'il n'est pas un auteur de films puisque il n'avait pas dans son œuvre une continuité. Mais c'était parce que il était un chercheur, dans chaque film il essayait d'explorer un territoire nouveau, même si … quelque fois cela n'était pas le sien, même si il pouvait se tromper. Il revenait bien entendu à ses bases... j'allais dire… bourgeoises, de critiques, de satyres de l'intérieur de la haute bourgeoisie française à laquelle il appartenait, mais cela dit, il a fait les films vraiment très différents et il a terminé, trop tôt, il a été très malade, et il est mort en quelques mois… ça a été une désolation pour nous… mais son dernier film qui est Vanya, 42e rue est un chef d'œuvre parce que il a réussi amener le théâtre au cinéma d'une façon qui n'avait été jamais réussi avant lui. Cela avait été tenté mais jamais réussi. C'est un film exemplaire que nous avons vu très souvent avec Peter Brook, qui l'aime beaucoup, qui disait même que c'est un film qui faisait date dans les rapport toujours très difficile du théâtre et du cinéma.
French screenwriter Jean-Claude Carrière (1931-2021) began his association with films aged 24 when he was selected by Jacques Tati to write for him. This early experience led to further contact with other film-makers, including Luis Buñuel with whom Carrière collaborated for many years. He wrote screenplays for films including Belle de Jour, The Discreet Charms of the Bourgeoisie, Tin Drum and Danton.
Title: Louis Malle
Listeners: Andrzej Wolski
Film director and documentary maker, Andrzej Wolski has made around 40 films since 1982 for French television, the BBC, TVP and other TV networks. He specializes in portraits and in historical films. Films that he has directed or written the screenplay for include Kultura, which he co-directed with Agnieszka Holland, and KOR which presents the history of the Worker's Defence Committee as told by its members. Andrzej Wolski has received many awards for his work, including the UNESCO Grand Prix at the Festival du Film d'Art.
Tags: The Diary of a Chambermaid, Viva Maria!, Vanya 42eme rue, Le voleur, Milou en mai, Louis Malle, Peter Brook
Duration: 2 minutes, 19 seconds
Date story recorded: January 2010
Date story went live: 18 October 2010