NEXT STORY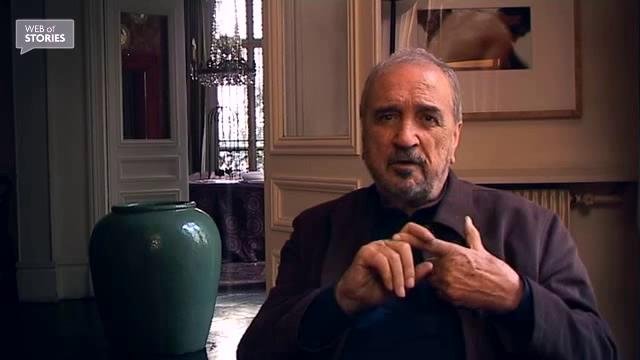 An inspirational history teacher
Growing up in the country
Jean-Claude Carrière
Film-maker
1
2
3
4
5
...
8
J'ai plusieurs images autour de moi, de ma famille, de mon village, je les confonds un peu avec des images qui sont venues plus tard, parce que quand on retourne toujours au même endroit, les images se superposent et les images quelque fois se confondent. Mais j'ai, oui, une image de mon père un jour, très fatigué. Ca, ça m'avait beaucoup frappé. Revenant de la montagne, chargé d'un fagot comme le bucheron qui rencontre la mort dans la fable, s'asseyant, suant, et ma mère qui allait lui essuyer le visage… il était malade déjà, il avait beaucoup de mal à travailler. C'est certainement vers cette époque là qu'ils ont dû prendre la décision de quitter le village. Mon père est mort à l'âge de 51 ans, il n'avait aucune possibilité à l'époque de vivre plus longtemps, aujourd'hui on pourrait sans doute l'opérer. Mais cette image là, à quel point… la vie était difficile, m'est resté. Elle était à la fois très difficile pour les adultes qui devaient travailler énormément et beaucoup plus facile et agréable pour les enfants car nous avions le plus beau terrain de jeux du monde, nous avions toute une vallée, une rivière, des ruisseaux, plusieurs montagnes à notre disposition. Ça reste évidemment des souvenirs absolument inoubliables, et très rares, très uniques. Mais les vrais souvenirs sont ceux de la joie des enfants et de la peine et de la dureté de la vie des parents.
I have some images of my family, my village, I sometimes mistake them with images from later, as when you always go back to the same place, pictures in your head get entangled and sometimes fuse together. But yes, I do remember one day, seeing my father extremely tired. That really struck me. Coming back from the mountains, carrying a bundle of sticks like the woodcutter who encountered Death in the fairytale, sitting down, sweating, and my mother trying to wipe his face, he was already sick, and he was struggling to carry out his work.
It must be at about that time they decided to leave the village. My father died at 51, there was no possibility at the time for him to live longer, nowadays he could definitely have been operated on. But that picture, it shows how, how very difficult life was, and it stayed with me. It was at the same time very difficult for adults, who had to work extremely hard, and a lot easier and nicer for the children as we had the most wonderful playground in the world, we had a whole valley, rivers, several mountains. Those are unforgettable memories, very rare, completely unique. But the real memories are those dealing with the sheer joy for the children and the efforts and toughness of life for the parents.
French screenwriter Jean-Claude Carrière (1931-2021) began his association with films aged 24 when he was selected by Jacques Tati to write for him. This early experience led to further contact with other film-makers, including Luis Buñuel with whom Carrière collaborated for many years. He wrote screenplays for films including Belle de Jour, The Discreet Charms of the Bourgeoisie, Tin Drum and Danton.
Title: Growing up in the country
Listeners: Andrzej Wolski
Film director and documentary maker, Andrzej Wolski has made around 40 films since 1982 for French television, the BBC, TVP and other TV networks. He specializes in portraits and in historical films. Films that he has directed or written the screenplay for include Kultura, which he co-directed with Agnieszka Holland, and KOR which presents the history of the Worker's Defence Committee as told by its members. Andrzej Wolski has received many awards for his work, including the UNESCO Grand Prix at the Festival du Film d'Art.
Tags: Happiness, childhood memories, countryside, hardship, rural life, death
Duration: 1 minute, 31 seconds
Date story recorded: January 2010
Date story went live: 26 July 2010