NEXT STORY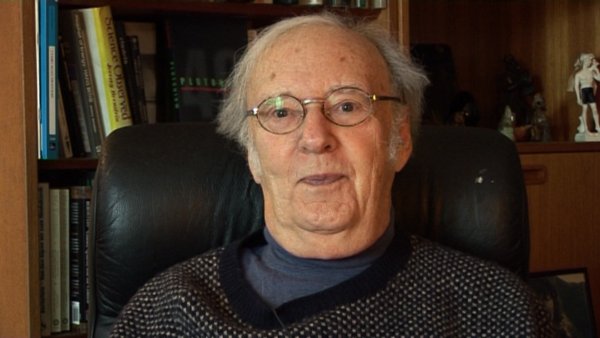 Believing in nuclear testing
'If any of them go up, going back a few feet isn't going to help!'
Jeremy Bernstein
Scientist
1
2
3
4
5
6
...
9
We went to a tower where the test for the next day was being prepared and we went up in a lift outside the tower. The lift was not enclosed, so you looked down several hundred feet below. Then you had to climb a ladder to where the actual device was. I thought, God, this is really scary. And what was scary was climbing up this ladder. You know, this nuclear device was on the thing but that didn't bother me. What bothered me was climbing up the ladder. Strange. And on the platform was this device and there were technicians from Los Alamos working it over and screwing stuff onto it and so on, and Carson was asking questions. We went down the ladder and down the elevator and went to a bunkhouse, concrete bunkhouse. No explanation from Carson whatsoever. I mean, I didn't ask any questions because, you know, need to know. We walk into this bunkhouse and I took one look and recoiled because on the shelves were the pits of, I don't know, 30 nuclear weapons. And God, I recoiled, and Francis said to me, 'Look, if any of them go up, going back a few feet is not going to help much!' Then there was a guy sitting there at a bench, gluing on the high explosives to the external part of the metallic spheres. He was gluing them on and filing and next to him was a woman knitting. Oh my God, this is the way the world ends. I mean, just too unbelievable. So Carson thought I was a little… being a little… I mean, I didn't say anything but obviously I was being a little distressed by all this so Carson casually picked up a pit, plutonium pit and gave it to me to hold, this pit.
[Q] A pit?
A pit. That's the centre of the bomb. It's called a pit. Made of uranium… plutonium in this case. It's the working part of the bomb, the pit. To hold. And it was about the size and weight of a bowling ball. It was warm to the touch because plutonium is radioactive, it was giving off alpha particles and blah blah blah. I held this pit, and then I... went back. And I tell you…
And then the next day, we saw this one go up. And then we went back.
Born in 1929, Jeremy Bernstein is an American physicist, educator and writer known for the clarity of his writing for the lay reader on the major issues of modern physics. After graduating from Harvard University, Bernstein worked at Harvard and at the Institute of Advanced Studies at Princeton. In 1962 he became an Associate Professor of Physics at New York University, and later a Professor of Physics at Stevens Institute of Technology in Hoboken, a position he continues to hold. He was also on the staff of The New Yorker magazine.
Title: 'If any of them go up, going back a few feet isn't going to help!'
Listeners: Christopher Sykes
Christopher Sykes is an independent documentary producer who has made a number of films about science and scientists for BBC TV, Channel Four, and PBS.
Tags: Operation Plumbbob, Los Alamos National Laboratory, J Carson Mark, Francis Low
Duration: 3 minutes, 6 seconds
Date story recorded: 15th June 2011
Date story went live: 07 September 2011