NEXT STORY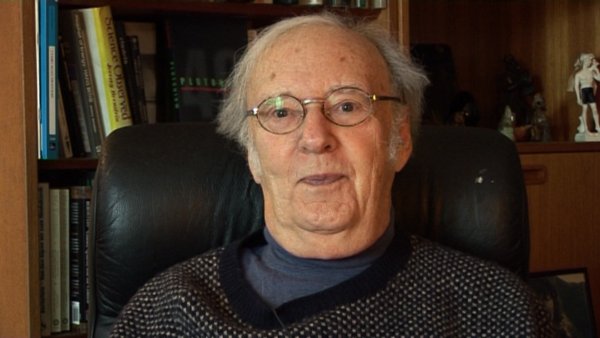 The Plumbbob series declassified
You would jump through fire for Oppenheimer
Jeremy Bernstein
Scientist
1
2
3
4
5
6
...
9
Getting back to the spring of '57, Oppenheimer by that time had lost his clearance and… but Harvard had invited him to give a series of lectures. By that time, I had been admitted to the Institute [for Advanced Study], and of course I wanted to hear the lectures, in the first place, but I also thought, well, I might introduce myself to the man and say, well, you know, 'I'm coming to your place next year.' 'Hi', and you know, 'Hello'. So I knew the lectures were going to be crowded. They were in the biggest auditorium in Harvard. They were jammed. We came early and there were some wonderful Boston womenA sitting in front of me. Violet hair and obviously first families or whatever. And at some point, Oppenheimer wrote down a bit of mathematics and these women clutched each other in terror. I don't know if they thought this mathematics was going to explode or something and I wanted to tell them that, you know, 'Don't worry, Oppenheimer's just showing off, just forget it, it's harmless'.
Anyway, the lecture was over, Oppenheimer was still on stage. I went up and he fixed me with what his students used to call the blue glaze, blue stare. He had extraordinary blue eyes and if he fixed them on you, you shrivelled up like a melted piece of ice. So he fixed these eyes on me in a very hostile way because he… I didn't know what to do. Should I continue? Should I advance or retreat? I thought, well God, if I retreat, I'll look like a complete idiot. So I advanced and I said, 'Dr Oppenheimer, I'm Jeremy Bernstein. I've been accepted to the Institute. I'll be there next fall'.
At this point, he changed completely. He turned and he radiated like the sun. He was so warm and so friendly, he radiated. And he said to me, he said, told me who was going to be there, he said, 'Lear's going to be there and Yang is going to be there, and they're going to tell us about peridotite conservation and we're going to have a ball.' That's what he said to me.
At that point, I realised why we had an atom bomb. If that guy was your lab director, you would jump through fire for the guy. I mean, he was… he was a genius. I would have… at that point, if he said, 'We're going to bomb… and now you've got to jump through that flaming hoop', I would've said, 'Yes, thanks, I will do that for you'. I mean, he was really, really wonderful.
Born in 1929, Jeremy Bernstein is an American physicist, educator and writer known for the clarity of his writing for the lay reader on the major issues of modern physics. After graduating from Harvard University, Bernstein worked at Harvard and at the Institute of Advanced Studies at Princeton. In 1962 he became an Associate Professor of Physics at New York University, and later a Professor of Physics at Stevens Institute of Technology in Hoboken, a position he continues to hold. He was also on the staff of The New Yorker magazine.
Title: You would jump through fire for Oppenheimer
Listeners: Christopher Sykes
Christopher Sykes is an independent documentary producer who has made a number of films about science and scientists for BBC TV, Channel Four, and PBS.
Tags: Institute of Advanced Studies, Harvard University, Chen Ning Yang, J Robert Oppenheimer, Tsung-Dao Lee
Duration: 3 minutes, 6 seconds
Date story recorded: 15th June 2011
Date story went live: 08 September 2011