NEXT STORY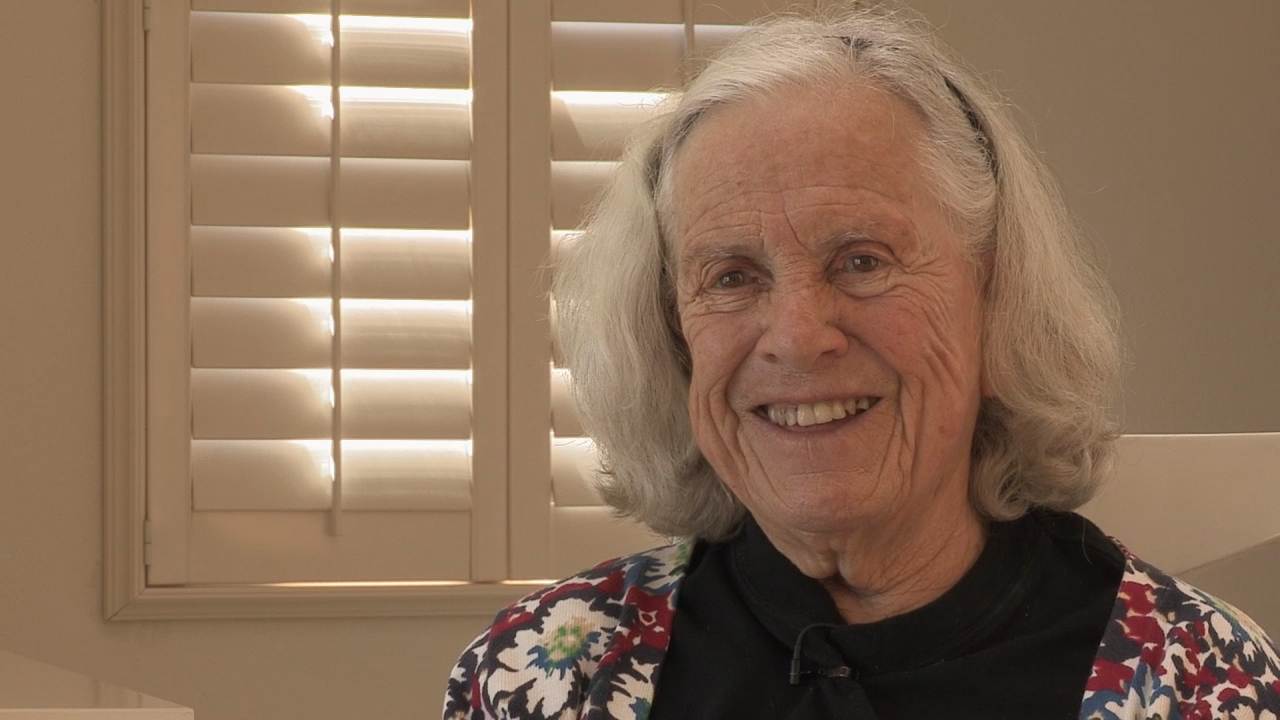 My family history: How we were educated
My family history: Being brought up the German way
1
2
Well, my earliest memory... I was a little kid and I got roller skates for my birthday. And as was the usual way of doing it, you just get the kids skates and you let them skate. And of course, that has some peculiar results, you know, the two knees that have scabs on them from frequent falling.

We lived in a big house. My grandfather, who came over with only 50 cents in his pocket. My grandmother was in millinery. My grandfather had some successful business and he built houses and they were lovely houses and big. And we lived in one of them: my mother, my father, my brother and I, my aunt and uncle, their two kids and two people who were... servants, oddly enough.

The way it was done in those days was if you wanted to get servants, you went down to the docks. I mean... There wasn't any other way. You went down to the docks and you talked to people there. And what the deal was, your family spoke English and they spoke only German, so how are they going to get a decent job in their line of work if they don't speak their language? So they say, 'Okay, you come to our house, we also speak German flawlessly'.

And they worked for us and spoke German and taught us German. I was too little. But it was a good deal for everybody. But they were... they were very German and they didn't think we were being brought up correctly. So what they decided was to teach me how to speak correctly to adults. And I remember standing at the top of the stairs to the... and them saying, 'Now when you speak to adults, it's feet together, hands at your sides and then you can speak properly to them'. And so I did that to the help. I put my feet together, stood up straight and spoke very German. But then when we were eating supper, we had a big table with all these people at it. And in the middle of the table there was... on the floor there was a bell which you could touch to inform the servants that they should come out and deliver the food. And the kids... four kids, I was too small, three of the four kids had developed an excellent ability to look as if nothing was happening on the top, but they were managing to push the button all the time and it always ended in laughing. So that was a good game, too.

The only thing that nobody taught me was how to cook. I never understood that. But we had a big kitchen, my mother cooked in it and my aunt cooked in it and the woman who was... They cooked, cooked and... And one day I stood watching them cook and a mouse came out of the cabinet. The mouse came scurrying across and the other two women dropped what they were doing and screamed, 'A mouse, a mouse!' And I was sitting on a high thing, I couldn't get off. There I was in the big kitchen with a mouse running. I didn't know what a mouse was except it was a little thing... So I sat there and said, 'They left me alone with a mouse'. And they came in and they were so upset because they had left me alone with a mouse without telling me it was not a dreadful creature.

My father also helped teach me to read because we had Alice in Wonderland. And Alice in Wonderland had already been read once to me and so I loved it. You know the little stories in Alice in Wonderland which are about grandma and things like that? Like the Red Queen says, 'We have a jelly every other day, marmalade every other day'. And Alice says, 'I would like some marmalade'. And the Red Queen says, 'I said marmalade every other day. This is not every other day. Every other day is tomorrow or yesterday, but it's never... never today'. So my father enjoyed that and I enjoyed it. So I got a lot of reading of Alice in Wonderland which was learning things about logic and so on.

As I grew up, I had need for money of my own, of course. So they... my father decided to give me an allowance. So the allowance was one cent a day. One cent a day. Okay, it's seven cents a week, I believe. Yes. So... One day he asked me, 'Would you rather have five cents a week or a penny a day?' So I said to him, 'Do I have to ask for it?' That was his rule. I didn't get the penny until I asked for it. He said, 'Yes, you have to ask for it'. And I said, 'Then I'll take five cents a week'. And he said, 'Why?' He looked a little worried. And I said, 'Well, if I have five... seven days to ask for it, I'll manage to remember to ask for it and get five days, but I'll never remember every day to ask for it and get a penny'. So okay, I got five cents a week for quite a while. And I saved my money up until I had a reasonable amount of money so I could buy a canary plus its cage, etc., etc. And that's where I spent my money on. My brother spent his money – which was no logic because he was nine years older – on various things. And one day he asked my father for some amount of money. He said, 'Why don't you borrow it from your sister?' He said, 'What do you mean?' My father says, 'She has money'. And my brother went to me curious, 'Do you have some money? I want to take a girl out for ice cream'. I said, 'Yes'. And I lent him the money for the ice cream. And he was amazed.
Joan Feynman (1927-2020) was an American astrophysicist. She made important contributions to the study of solar wind particles and fields, sun-Earth relations and magnetospheric physics. In particular, Feynman was known for developing an understanding of the origin of auroras. During her career, Feynman was an author or co-author of more than 100 scientific publications. She also edited three scientific books. In 2002, she was awarded NASA's distinguished Exceptional Achievement Medal.
Title: My family history: Being brought up the German way
Listeners: Christopher Sykes Alexander Ruzmaikin
Christopher Sykes is an independent documentary producer who has made a number of films about science and scientists for BBC TV, Channel Four, and PBS.
Tags: Alice in Wonderland
Duration: 9 minutes, 24 seconds
Date story recorded: April 2019
Date story went live: 05 November 2019