NEXT STORY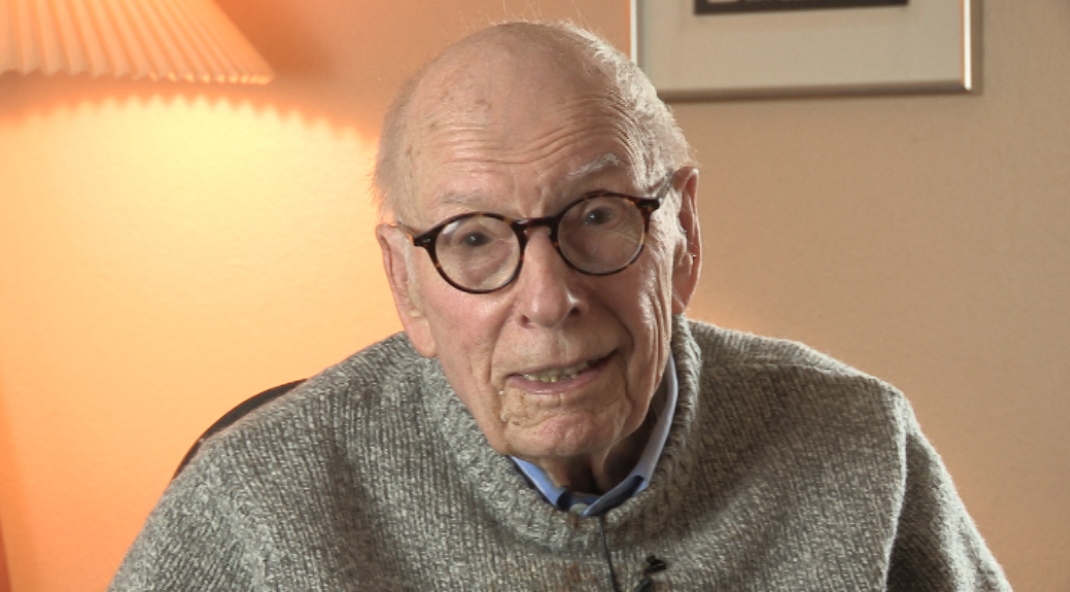 Ammonia is it!
What makes slime mold grow at right angles?
1
2
3
4
5
6
I think at that time, I think I thought that there was going to be an infinite number of questions to ask. And there were and actually, I asked and answered quite a few of them. For instance, to give you an example, my old professor, Cap Weston, used to in his lectures say, 'Why is it that little fungi - and slime molds do the same thing - stick up at right angles from the substratum?' And this is true if you put them this way or if you try to change it because it's not a gravity thing. Well, what is it? And what I was able to show two years later was that these cell masses give off ammonia, and ammonia is a substance which they abhor so they're trying to go away from it. So if you're going away from it and you have a situation where there's some produced on each side, and what you get is you get a stalk bisecting perfectly perpendicular. Or you can put it in a cliff of agar and if you put it here, it will not touch the walls, but it will get right between the two sides of the cave. And then, that was before we knew it was ammonia. And then, we did some very clever experiments trying to prove that. That turned out mostly to be that you have a little chamber, which you put a block along, or near a hole. Now this is a closed in, plastic box, with one hole in it. And you put the slime mold, so that if this is the hole, the slime mold would be this way and it would… I'm not sure this is going to show with my fat hands. But any event, if you have that hole and had ammonia on the outside, the fruiting body would not go up, but would go down, but if you had nothing there, then they would go up. So in other words, it would always go where there was less ammonia. A physical chemist friend of mine pointed out the fact that I was just at the limit of the size of the chambers to make this work on a theoretical basis. But that's okay, it worked.
John Tyler Bonner (born in 1920) is an emeritus professor in the Department of Ecology and Evolutionary Biology at Princeton University. He is a pioneer in the use of cellular slime molds to understand evolution and development and is one of the world's leading experts on cellular slime molds. He says that his prime interests are in evolution and development and that he uses the cellular slime molds as a tool to seek an understanding of those twin disciplines. He has written several books on developmental biology and evolution, many scientific papers, and has produced a number of works in biology. He has led the way in making Dictyostelium discoideum a model organism central to examining some of the major questions in experimental biology.
Title: What makes slime mold grow at right angles?
Listeners: Christopher Sykes
Christopher Sykes is an independent documentary producer who has made a number of films about science and scientists for BBC TV, Channel Four, and PBS.
Tags: slime mold, ammonia, stalk, experiment
Duration: 3 minutes, 29 seconds
Date story recorded: February 2016
Date story went live: 14 September 2016