NEXT STORY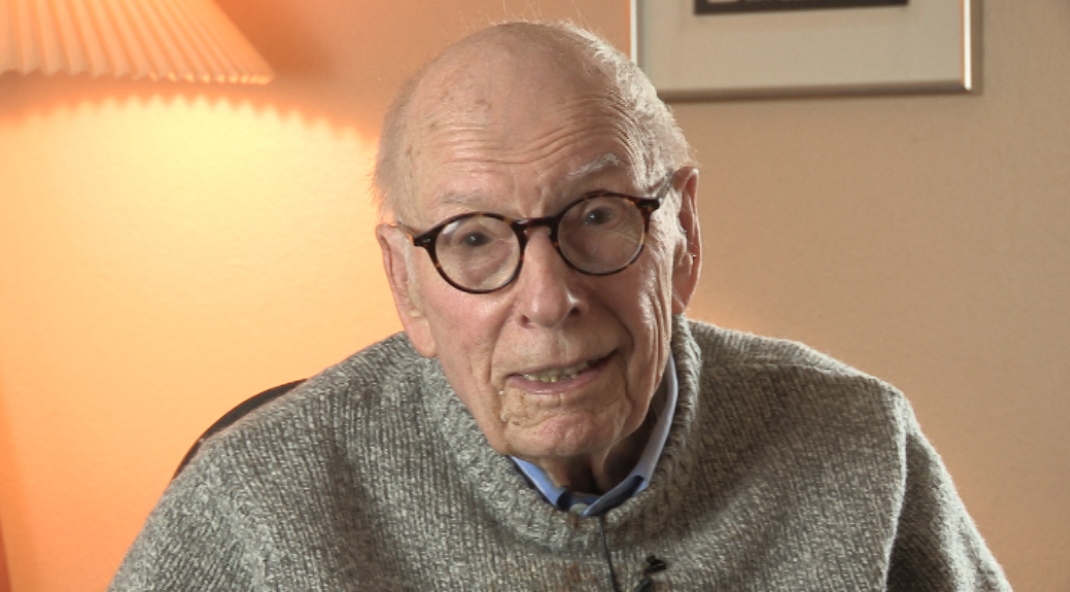 A typical adolescence
Life was fun in Locust Valley
1
2
3
4
5
6
[Q] Tell me about life in Locust Valley.
Well, in the first place, it was very, very pleasant, but it's very different from today. In the first place, in Locust Valley, in the daytime, all the men wore white flannel trousers. I never seen this for years. I can't imagine anything worse because in the warm weather they're wearing flannel, and the fact that it's white doesn't make it any cooler. And we had all sorts of fun as children. And one of the things, the big thing was croquet. And also, I remember all the women with their lovely, big hats. And also, I remember the people delivering illicit booze in miserable sort of plastic suitcases. And I also have all sorts of recollections. And one of them was that the croquet games were lethal. I can remember, for instance, watching people play croquet when the stock market crashed in 1929. And I didn't really appreciate it as a child, but I knew something major had happened. But they all seemed as though, well, that's life. And I remember Woollcott saying, as he was about to shoot the croquet ball, Alexander Woollcott saying, 'Well, there goes my shirt!'
And one day they had a party in the house, and a bunch of people were coming in the afternoon. Suddenly Harold Ross appeared, and Harold Ross was the editor of The New Yorker, of such fame because he really set the pace. And he was a very nice man and I always judged people with whether they were nice to the children. But however, he got on my blacklist because suddenly he said, 'Oh', he said, 'wait a second', he said, 'I have someone in the car out there, I left in the car'. And so someone asked, 'Who is it?' And he said, 'Oh, Ginger Rogers'. And I thought if anybody that could be that way about Ginger Rogers is really black on my list. So he went out and got her.
[Q] So a lot of other famous people there, weren't there?
Well, yes, there were a lot of people connected with journalism. So of course, Ross was a part of a journal. And people who wrote for, like, FPA, who wrote for the world. And let's see, there were people, publishers and so forth, and one of their close friends was Harpo Marx, who was wonderful with us kids and kept us fully entertained. And I always remember feeling a special feeling for Harpo. And that is Woollcott had a summer island that he rented in Lake Bomoseen in Vermont. And there were big signs saying, 'No picnicking', so that boats didn't land on it. And suddenly we were all sitting around, and suddenly someone reported that there were some picnickers that had just arrived, and are setting out their picnic on the grass. So some people wanted to call the police, and Harpo said, 'No, no, I'll handle this'. So he took off all his clothes and he got a hold of a hatchet. And I never saw what he did, but however, he got rid of the picnickers very fast.
John Tyler Bonner (born in 1920) is an emeritus professor in the Department of Ecology and Evolutionary Biology at Princeton University. He is a pioneer in the use of cellular slime molds to understand evolution and development and is one of the world's leading experts on cellular slime molds. He says that his prime interests are in evolution and development and that he uses the cellular slime molds as a tool to seek an understanding of those twin disciplines. He has written several books on developmental biology and evolution, many scientific papers, and has produced a number of works in biology. He has led the way in making Dictyostelium discoideum a model organism central to examining some of the major questions in experimental biology.
Title: Life was fun in Locust Valley
Listeners: Christopher Sykes
Christopher Sykes is an independent documentary producer who has made a number of films about science and scientists for BBC TV, Channel Four, and PBS.
Tags: Locust Valley, Harold Ross, Ginger Rogers, Harpo Marx
Duration: 4 minutes, 56 seconds
Date story recorded: February 2016
Date story went live: 14 September 2016