NEXT STORY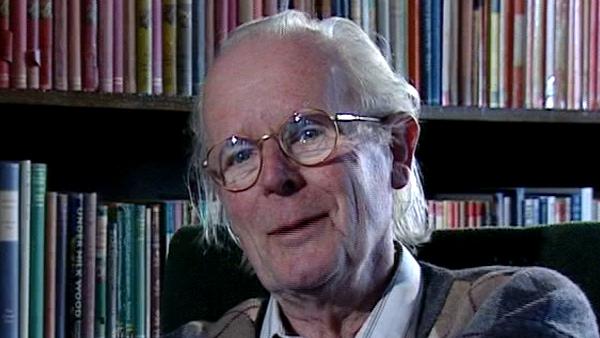 The move to Sussex University
The story of Haldane's last words
John Maynard Smith
Scientist
1
2
3
4
5
6
...
11
This was when he was in hospital. He came... It was after he'd gone to India but he'd come back to visit the West, and he'd been having bleeding from the bowel and he was due to have a major operation, a colostomy. And to understand the story you have to realise that a colostomy is an operation in which they give a new opening to your bowels, in the lower stomach. And I went to spend the last half hour with him before he was wheeled off. His wife was in India still, and I felt that he'd like to have a friend with him before he was taken away. And they take you away and they shave you around the private parts, and they wash you and so on. So he was taken away by this nice nurse and brought back in again. And there was a sort of slightly odd expression on his face, and I didn't what was on, but what had obviously happened, he'd decided that possibly, you know, he was an old man, he might die on the operating table. He was very vain, you must understand. It was quite important that he have some good last words, and who better to say them to than Smith, who'd remember them and repeat them. So, he looked me straight in the eye and he said, 'Well, Smith, just had me last shit.' And he wouldn't say another word. Unfortunately, in a sense, for him, they weren't his last words and I don't actually know what his last words were - though I have heard from Helen, that as he lay dying, in India, he had in his hand a stone which he had picked up in Israel, in the stream where David is said to have picked up his stone that he used to kill Goliath. And apparently he was holding this stone... I'm so sorry, I'm going to cry.
[Q] Take your time.
He was holding this stone as he lay dying, and Helen said, 'When he dropped it, I knew he'd died.' But I don't know what he last said. The world won't be the same without him, but we all have teachers.
The late British biologist John Maynard Smith (1920-2004) is famous for applying game theory to the study of natural selection. At Eton College, inspired by the work of old Etonian JBS Haldane, Maynard Smith developed an interest in Darwinian evolutionary theory and mathematics. Then he entered University College London (UCL) to study fruit fly genetics under Haldane. In 1973 Maynard Smith formalised a central concept in game theory called the evolutionarily stable strategy (ESS). His ideas, presented in books such as 'Evolution and the Theory of Games', were enormously influential and led to a more rigorous scientific analysis and understanding of interactions between living things.
Title: The story of Haldane's last words
Listeners: Richard Dawkins
Richard Dawkins was educated at Oxford University and has taught zoology at the universities of California and Oxford. He is a fellow of New College, Oxford and the Charles Simonyi Professor of the Public Understanding of Science at Oxford University. Dawkins is one of the leading thinkers in modern evolutionary biology. He is also one of the best read and most popular writers on the subject: his books about evolution and science include "The Selfish Gene", "The Extended Phenotype", "The Blind Watchmaker", "River Out of Eden", "Climbing Mount Improbable", and most recently, "Unweaving the Rainbow".
Tags: India, Israel, JBS Haldane, Helen Spurway
Duration: 2 minutes, 17 seconds
Date story recorded: April 1997
Date story went live: 24 January 2008