NEXT STORY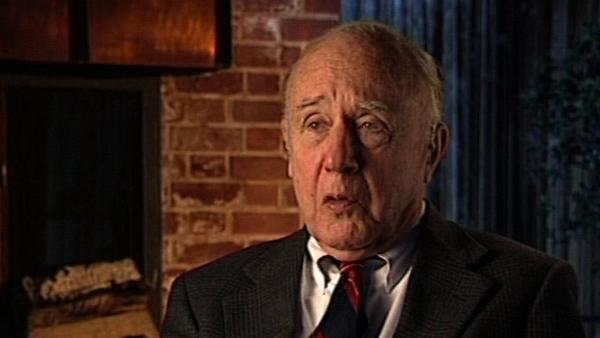 The reactor project
Klaus Fuchs. The US Reactor Safeguard Committee
1
...
4
5
6
7
8
...
13
I had met Fuchs in Los Alamos but never talked much of any- except the normal hello and so. I had no idea what he had done. But because of my experience during the war in nuclear reactors and their control and the safety devices, I was, after the war, put on the United States Reactor Safeguard Committee and served on that committee six or seven years. And at one point we met with the British group to compare notes. And we had reached similar assessments on how big the damage could be if a reactor got out of control and the radioactivity was carried downwind by the air, such as the Chernobyl accident happened in Russia. And we in the American group had decided to put domes over reactors. Teller and Feynman and I, on the Reactor Safeguard Committee, had advocated that method of protection, so that today that's the symbol of a reactor in this country, the dome, but what the Russians did not have at Chernobyl. But in comparing with the British group, the damage that would result, we found that the meteorologists who study wind conditions agreed, they came out with similar predictions. Well, if the catastrophe could be so great, what was the chance of the catastrophe? And I had looked into these probabilities, and I thought the greatest chance was the chance of sabotage. I'd collected the statistics on sabotage in World War I and World War II, many more in World War I when there was much more sympathy for the German side than in World War II. So I said- the thing you've got to worry about most is the chance somebody who comes in who's an expert, who's trusted and who gets by all the security guards because he's trusted, but who knows technically how to turn off these different safety devices, somebody animated by some strange ideology. As I was speaking, opposite me, in the British group, was Klaus Fuchs. And one month later, he was in prison, not because of any action of this committee, but because of evidence of his being a spy. But Sir Rudolf Peierls, who had hired him, went around to the prison to see him, he said- there's some terrible mistake, we've got to get you a lawyer. And Fuchs said- no, it's not a mistake." You mean, you were a spy? Yes. But how could you? Well, I meant to give control of the world to the Russians. But how could you? Well, then I meant to tell them what was wrong with them. Well, that was Fuchs.
John Wheeler, one of the world's most influential physicists, is best known for coining the term 'black holes', for his seminal contributions to the theories of quantum gravity and nuclear fission, as well as for his mind-stretching theories and writings on time, space and gravity.
Title: Klaus Fuchs. The US Reactor Safeguard Committee
Listeners: Ken Ford
Ken Ford took his Ph.D. at Princeton in 1953 and worked with Wheeler on a number of research projects, including research for the Hydrogen bomb. He was Professor of Physics at the University of California and Director of the American Institute of Physicists. He collaborated with John Wheeler in the writing of Wheeler's autobiography, 'Geons, Black Holes and Quantum Foam: A Life in Physics' (1998).
Duration: 4 minutes, 14 seconds
Date story recorded: December 1996
Date story went live: 24 January 2008