NEXT STORY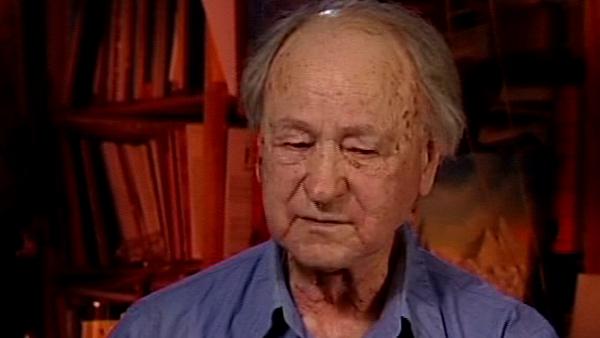 My debt of gratitude to Jerome Hill
Film is not a medium for political thought
1
...
10
11
12
13
14
I have this running argument with Godard and some of the film-makers who is his buddies, that's why I put some in my film, a little title: 'This is political film'. Because, you know, they look at it as: Godard has made some very nasty statements about the avant-garde. I mean, he liked, you know... he wrote very nice review about Hallelujah the Hills and where this little political, naive political film that we made with Adolfas on Vietnam... He praised that very much, but the rest to him, like my films are... like my last film, of course, there is nothing about contemporary, you know, it's problems, nothing, it's a totally useless kind of film, politically. But you see, I put that in because my... what is politics? They were... to me politics is... is reflected in the way and style of life and thinking and being what one is and it's that attracts then everything around and changes the whole society. So then I say, 'Who are really the people that have changed?' I mean, there have been people and movements and parties and systems that made this 20th century into the most horrible century that we had. So we go to all the politically, political parties, to all and those who supported those parties to the very end. You know, I went to there, I lived on there, you know, under the Soviets and under the Germans so I... I could ask myself who has contributed to the positive change and those were all negative affects. Those aren't humanity, and R Buckminster Fuller. Who else? John Cage, Fluxus, some of the scientists, some of the poets, so that's something else. Those are... now to me, those are the right... there are politics, there are many different politics so there are some right politics for me, some are positive, some are negative, depends how they affect and change humanity and life. So I am totally against Godard politics, and when I put that title in it's my conversation with Godard. More or less that is how I look at it.
[Q] Of course, Godard is the person who's come closer to your position than...
Now?
[Q] Now.
Not in these last... okay, maybe he has cut back since his last film, okay that's not what I want to talk about it. It's so stupid and you see, he's very clever, that I have to admit. To hide the stupidity of his talking about in... in whatever the title of his last film, I wiped it out already of my head, he has cut it to little pieces, abstracted so that when something, some stupid statement is cut to pieces abstracted there, it sounds okay, you see. But when you put it together you begin to think and put it together again, it's naive, it's naive and stupid and simple-minded. He's talked there about the French Resistance and the whole thing is stupid. No, I don't think he has... he has left that, you know, active kind of Marxist or whatever position, but now he has... I think, maybe his brain has melted, he's now totally in... descended into the... totally nit-witty, stupid. You have to tell...
[Q] I'm not going to get...
But I liked his... Pravda is one of the films of Godard that I really like, Pravda. That reflections on the... of all that period, well, he... does not speak. There is no talking, where he be open his mouth, you know, I had to close my ears, it... it's whatever he says so pretentious and stupid simple-minded all those philosophies. In Pravda, it's only noise, noise, great sound, one of the great sound films and it's not available, you cannot find it anywhere. I wish he wouldn't talk in his films. I will somehow send a message to him: please, in the next film don't talk.
Jonas Mekas (1922-2019), Lithuanian-born poet, philosopher and film-maker, set up film collectives, the Anthology Film Archive, published filmzines and made hundreds of films, all contributing to his title as 'the godfather of American avant-garde cinema'. He emigrated to America after escaping from a forced labour camp in Germany in 1945.
Title: Film is not a medium for political thought
Listeners: Amy Taubin
Amy Taubin is a contributing editor for "Film Comment" magazine and "Sight and Sound" magazine. Her book, "Taxi Driver", was published in 2000 in the British Film Institute's Film Classics series. Her chapter on "America: The Modern Era" is part of "The Critics Choice" published by Billboard Press, 2001, and her critical essays are included in many anthologies, mostly recently in "Frank Films: The Film and Video Work of Robert Frank" published by Scalo.

She wrote for "The Village Voice" weekly from 1987 into 2001 both as a film and a television critic. She also wrote a column for the "Village Voice" titled "Art and Industry" which covered American independent filmmaking. Her first weekly film criticism job was at the "SoHo Weekly News". Her writing has also appeared in "Art Forum", the "New York Times", the "New York Daily News", the "LA Weekly", "Millennium Film Journal", "US Harpers Bazaar" and many other magazines. She is a member of the National Society of Film Critics and the New York Film Critics Online.

She started her professional life as an actress, appearing most notably on Broadway in "The Prime of Miss Jean Brodie", and in avant-garde films, among them Michael Snow's "Wavelength", Andy Warhol's "Couch", and Jonas Mekas' "Diaries, Notebooks and Sketches".

Her own avant-garde film, "In the Bag" (1981) is in the collection of the Museum of Modern Art and the Friends of Young Cinema Archives in Berlin.

She was the video and film curator of "The Kitchen" from 1983-1987.

She has a B.A. from Sarah Lawrence College and an M.A. from N.Y.U. in cinema studies. She teaches at the School of Visual Arts in both the undergraduate and the MFA graduate programs, and lectures frequently at museums, media centers, and academic institutions. In 2003, she received the School of Visual Arts' art historian teaching award.
Tags: Hallelujah the Hills, Vietnam, Pravda, Jean-Luc Godard, R Buckminster Fuller
Duration: 6 minutes, 8 seconds
Date story recorded: September 2003
Date story went live: 29 September 2010