NEXT STORY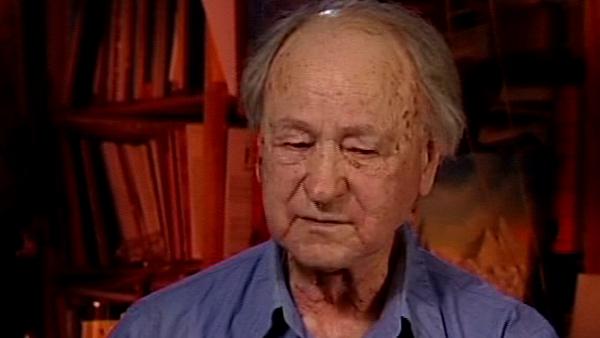 The prolific Ken Jacobs
Nam June Paik sends shockwaves
1
...
10
11
12
13
14
Nam June Paik, a Korean artist, who got interested in music and art and went to Germany from Korea. Cologne, that's where he studied, it was in Europe that he met George Maciunas of Fluxus Movement, because George was helping his father in Wiesbaden, Germany. His father was a railroad engineer, worked in... for the American army and that is where George organised the first Fluxus Festival in the fall of '61. And they had met already because George had already organised little events, Fluxus events, before that. There were already a good number of them involved in that festival.
And then George moved to New York and began organising events here and Nam June Paik moved to New York. I guess he had about finished his studies. George was opening AG gallery on Madison Avenue in 74th or 5th Street and around that time I met, of course, Nam June Paik. And we did some... later we did some events of our own together because – sort of political events – because I think now... that I do not know. I think that he comes from the part that became North Korea and that is why he was very much, you know, for, like, free Korea and I, of course, was for free Lithuania so we used to travel like Cincinnati some other places and he would read United Nations Charter in Korean and I would read in Lithuanian and that was our political Fluxus performance. In any case, we remain friends.
Of course, he now happens to be paralysed, spends a lot of time in Florida. I met the other day, was passing by Broadway and Spring Street and he was there, sitting in a chair and watching the street, and I, of course, video-taped him, but he has been very active in Fluxus and the related sort of... that could be all described as Fluxus events. He did one of his last performances... actually was at Anthology Film Archives about five, six years ago. The repeat of his event, The Destruction of the Piano where he sort of destroys slowly by pushing the piano and he plays some and then... those pianos, of course, are always purchased from storage places of... of old unusable pianos. Some people think that they are perfectly good; they are never perfect pianos. Actually, his school, primary school buddy who became later president of Lithuania and who is was very instrumental, actually, in the destruction of Soviet Union when he confronted Gorbachev that is Landsbergis they were with George Maciunas together on the same bench at school and corresponded and Landsbergis sent some Fluxus compositions.
When Landsbergis was at that event at Anthology Film Archives, he happened to be in New York and he was appalled. And he's a musician, you see, he's a composer and pianist, Sokurov made a film with Landsbergis when he just became president, a short film that they are playing on piano and there is a line of telephones because he had to, you know, deal with all the developments in the world and he's there with the piano and then he... so, he was very appalled and, you know, he found out that those pianos were already not useable any more. Then, of course, he... you know, his work with Charlotte Moorman, the police was always a little bit, you know... very close to his activities and there were several arrests made with Charlotte Moorman at performances.
Jonas Mekas (1922-2019), Lithuanian-born poet, philosopher and film-maker, set up film collectives, the Anthology Film Archive, published filmzines and made hundreds of films, all contributing to his title as 'the godfather of American avant-garde cinema'. He emigrated to America after escaping from a forced labour camp in Germany in 1945.
Title: Nam June Paik sends shockwaves
Listeners: Amy Taubin
Amy Taubin is a contributing editor for "Film Comment" magazine and "Sight and Sound" magazine. Her book, "Taxi Driver", was published in 2000 in the British Film Institute's Film Classics series. Her chapter on "America: The Modern Era" is part of "The Critics Choice" published by Billboard Press, 2001, and her critical essays are included in many anthologies, mostly recently in "Frank Films: The Film and Video Work of Robert Frank" published by Scalo.

She wrote for "The Village Voice" weekly from 1987 into 2001 both as a film and a television critic. She also wrote a column for the "Village Voice" titled "Art and Industry" which covered American independent filmmaking. Her first weekly film criticism job was at the "SoHo Weekly News". Her writing has also appeared in "Art Forum", the "New York Times", the "New York Daily News", the "LA Weekly", "Millennium Film Journal", "US Harpers Bazaar" and many other magazines. She is a member of the National Society of Film Critics and the New York Film Critics Online.

She started her professional life as an actress, appearing most notably on Broadway in "The Prime of Miss Jean Brodie", and in avant-garde films, among them Michael Snow's "Wavelength", Andy Warhol's "Couch", and Jonas Mekas' "Diaries, Notebooks and Sketches".

Her own avant-garde film, "In the Bag" (1981) is in the collection of the Museum of Modern Art and the Friends of Young Cinema Archives in Berlin.

She was the video and film curator of "The Kitchen" from 1983-1987.

She has a B.A. from Sarah Lawrence College and an M.A. from N.Y.U. in cinema studies. She teaches at the School of Visual Arts in both the undergraduate and the MFA graduate programs, and lectures frequently at museums, media centers, and academic institutions. In 2003, she received the School of Visual Arts' art historian teaching award.
Tags: The Destruction of the Piano, Nam June Paik, George Maciunas, Vytautas Landsbergis, Charlotte Moorman
Duration: 5 minutes, 46 seconds
Date story recorded: September 2003
Date story went live: 29 September 2010