NEXT STORY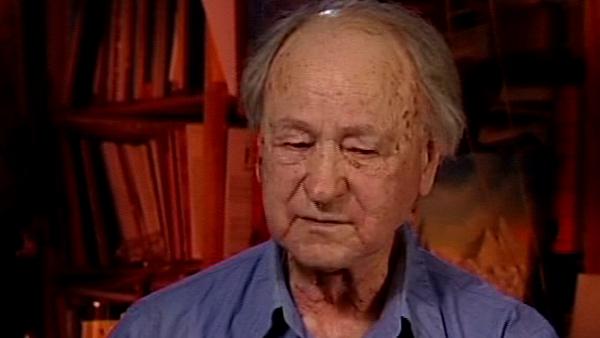 How I met Andy Warhol
No drug beats a good read, good friends and a nice bottle of wine
1
...
7
8
9
10
11
...
14
I have tried... tried at least once practically everything, but I've never permitted and I've never, never will permit to put anything into my blood. I only take what you can eat, sniff, chew or, I don't know, drink or... but nothing that... I cannot stand injections, even when they take my blood and I go to a doctor, I cringe. So... but in general it's like this.
I spent one weekend at Timothy Leary's place, the LSD, with some people, Barbara Daas, who was not Barbara Daas yet, so on the third day he comes to me and says, 'Let us go for a walk'. So we walk and then stops on a bridge by a little brook and he turns to me and says, 'I don't... why... everybody here, friends, you know, and they're here, and some are with their children, but they're all, you know, trying something because this is chance or occasion and they're under my... supervision and they're in no danger, some be it LSD or something, and you seem to be just filming, reading...' Because I was sitting a lot of reading, I found there a book on... actually, on Meher Baba, who's not very... nobody knows maybe that name any more, whom everybody admired like some guru and I discovered... I started reading and I could not stop because from that biography came out that Meher Baba was really not some mystic who just knew meditate but he was running... he was a psychiatrist and doctor running the several hospitals for mentally, mentally disturbed people with great success and that's what he was known in India for. He was an amazing doctor that saved thousands of lives. He was not some, you know, drug person. So, that's, reading... So I said, 'Yes. I have tried practically everything that my friends have tried but nobody... I always like... The highest intoxication that I have ever have had in my life was when I was reading Rimbaud'.
So he turns around and we walked back and he said nothing, nothing more. In any case that's my position, that I get much more excited when I read good poetry or when I saw... nothing can match this screening when I saw Brakhage's Desistfilm and this Night... and this film with this guy walking down with scratched eyes. Those were electrical, they changed your body, it goes down to your cells, molecules and cells and atoms and so I always found a very lasting influence. So, when I, you know, got some peyote some, I even took LSD once and nothing was that... that lasting on something that I would have to have or want to try again.
Or, you see, another thing is I like wine with friends. Friendship is one of my drugs, when I can eat and drink and sing and be with friends. That's exciting, there is something in the air, there is something... and that's what keeps me going, not... there, I get excited. And that's my drug. I tried with smoking, sometimes... I tried because I want to impress one girl that I knew. It didn't work. No, actually, I mean, narcotics, drugs or whatever the name. But when I was a child, when I was ten or 12 in our... the farmers where I grew up in our village, the villagers, always in their gardens had also... they used to call it canarpes, canarpes, cannabis, cannabis and they grew them because they protected other vegetables and plants from something, I don't know, so they always had them in different places of the garden and when they reached the bloom, and the ripe stage there are little, we used to chew them, we used to as children. I don't know what that did to us, but we liked them very much. So, we grew up with... on pot but not pot but actually it's... yeah, yeah.
Jonas Mekas (1922-2019), Lithuanian-born poet, philosopher and film-maker, set up film collectives, the Anthology Film Archive, published filmzines and made hundreds of films, all contributing to his title as 'the godfather of American avant-garde cinema'. He emigrated to America after escaping from a forced labour camp in Germany in 1945.
Title: No drug beats a good read, good friends and a nice bottle of wine
Listeners: Amy Taubin
Amy Taubin is a contributing editor for "Film Comment" magazine and "Sight and Sound" magazine. Her book, "Taxi Driver", was published in 2000 in the British Film Institute's Film Classics series. Her chapter on "America: The Modern Era" is part of "The Critics Choice" published by Billboard Press, 2001, and her critical essays are included in many anthologies, mostly recently in "Frank Films: The Film and Video Work of Robert Frank" published by Scalo.

She wrote for "The Village Voice" weekly from 1987 into 2001 both as a film and a television critic. She also wrote a column for the "Village Voice" titled "Art and Industry" which covered American independent filmmaking. Her first weekly film criticism job was at the "SoHo Weekly News". Her writing has also appeared in "Art Forum", the "New York Times", the "New York Daily News", the "LA Weekly", "Millennium Film Journal", "US Harpers Bazaar" and many other magazines. She is a member of the National Society of Film Critics and the New York Film Critics Online.

She started her professional life as an actress, appearing most notably on Broadway in "The Prime of Miss Jean Brodie", and in avant-garde films, among them Michael Snow's "Wavelength", Andy Warhol's "Couch", and Jonas Mekas' "Diaries, Notebooks and Sketches".

Her own avant-garde film, "In the Bag" (1981) is in the collection of the Museum of Modern Art and the Friends of Young Cinema Archives in Berlin.

She was the video and film curator of "The Kitchen" from 1983-1987.

She has a B.A. from Sarah Lawrence College and an M.A. from N.Y.U. in cinema studies. She teaches at the School of Visual Arts in both the undergraduate and the MFA graduate programs, and lectures frequently at museums, media centers, and academic institutions. In 2003, she received the School of Visual Arts' art historian teaching award.
Tags: Desistfilm, Barbara Daas, Meher Baba, Rimbaud
Duration: 6 minutes, 3 seconds
Date story recorded: September 2003
Date story went live: 29 September 2010