NEXT STORY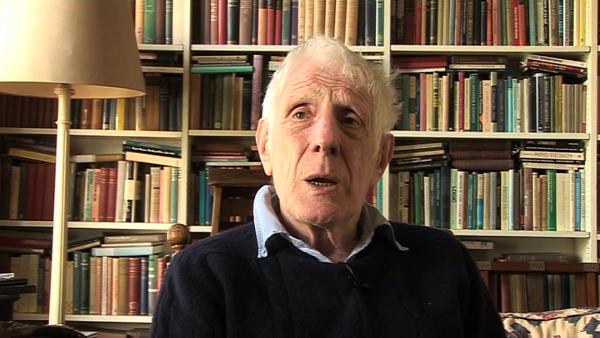 Darwin didn't change my life
Jonathan Miller
Theatre director
1
2
3
4
5
[Q] Were you... I mean if you are an atheist, I guess you are… I don't know if you'd call yourself that or…
No, I don't call myself an atheist because it's not… no… least of all do I call myself an agnostic. I mean, agnostic has the connotations of hedging one's bets, and atheist seems scarcely worth having a name for not believing in God any more than I have a name for not believing in witches, I'm not an ahexist. It's just that it's never occurred to me that there might be a God or that there might be this immaterial entity called the soul. I don't know what happens when we die… well, I think I do know, we just simply stop being, but I don't think anything makes an exit at that moment, and these curious euphemistic terms that are used, he's passed away, make it sound as if, in fact, death is… coincides with something that makes an exit from the body and goes elsewhere, I don't think that.
[Q] It can't not have occurred to you that there might be something called the soul or God, because [sic] many very clever people spent ages thinking about it?
Yes, no, it never... Well, I didn't, it never occurred to me, and I could never understand why people who quite clearly in many respects were very clever, could actually sustain such an idea. It wasn't that it was wrong but it was incoherent. The idea of a disembodied person makes no sense at all, anymore than the idea of a circular rectangle makes sense. You can utter the phrase but it doesn't mean that it's meaningful.
[Q] Wittgenstein didn't [sic]
Yes, I suppose. No, but long before… I mean, Wittgenstein gave me the lingo with which to talk that way, but I don't think I ever thought about it very hard. I suppose that I was puzzled by what was the difference between something that was lively in the same way as I'd been preoccupied with looking at paramecium down the microscope.
Jonathan Miller (1934-2019) was a British theatre and opera director. Initially studying medicine at Cambridge, Sir Jonathan Miller came to prominence with the production of the British comedy revue, Beyond the Fringe. Following on from this success he embarked on a career in the theatre, directing a 1970 West End production of The Merchant of Venice starring Laurence Olivier. He also started directing opera, famously producing a modern, Mafia-themed version of Rigoletto.
Title: Death is not an exit
Listeners: Christopher Sykes
Christopher Sykes is a London-based television producer and director who has made a number of documentary films for BBC TV, Channel 4 and PBS.
Tags: Ludwig Wittgenstein
Duration: 2 minutes, 5 seconds
Date story recorded: July 2008
Date story went live: 23 December 2008