NEXT STORY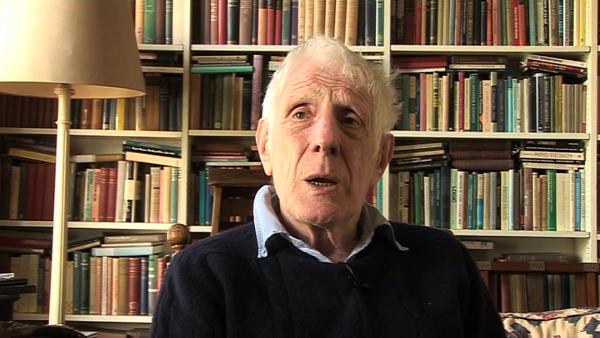 Leaving medicine for theatre
Jonathan Miller
Theatre director
1
2
3
4
5
I left Cambridge and got a fairly good degree, less good than I'd hoped for. I think… I only got a 2:1, and I think everyone expected me to get a first as a scholar of St John's, but I think I spent too much time doing other things, and doing things like the history and philosophy of science, which got in the way of just getting the answers to the questions that came up in the big subjects like anatomy and physiology. But I, you know, I did perfectly well, and then I went to London, got married almost the same year I came down in '56. I got my degree and I got married in 1956 and my wife and I moved just a mile up the road here in Primrose Hill, and we lived there for five years and she was at the Royal Free doing medicine and I was at University College.
I did some performances at University College. I used to run one of the things called… there was a review every year which I produced and appeared in and directed and actually appeared in, but then so did lots of my colleagues, but it certainly wasn't done with a view to becoming a comic. It was just one of the things that one did, it was rather like a, you know, it was the same mood as University Rags and things of that sort. But then what I've always described to interviewers like yourself as the person from Porlock arrived. Now, you'll remember that Coleridge was in the middle or writing the Kubla Kahn, and I think his servant came upstairs and said there's a person from Porlock who wishes to talk to you, and in order… he had to break off in the middle of doing Kubla Kahn and never returned to it, it remained unfinished.
Well, a person from Porlock in the form of a man called Bassett, John Bassett who'd been at Oxford with Alan Bennett and Dudley Moore, who was then employed as an assistant to the director of the Edinburgh Festival, came to me when I was working in the casualty department. I was already by that time… I'd qualified, I was doing my house surgery job. And he asked me whether I would be willing to take part in a late-night review at the Edinburgh Festival, not as a... Let me go back, he asked me whether I'd be willing to take part in a late night review at the Edinburgh Festival because the director of the Festival at that time was rather exasperated by the success of fringe productions that had come from universities, and he wanted something which came under the auspices of the Festival itself. So Bassett, who had known Alan and Dudley and he had known of me through my wife because he'd been at Bedales with her, asked me if I would participate in this and did I know anyone else from Cambridge. And I said, oh, well, I had seen this younger man, Peter Cook, appearing in the Footlights and I thought he was very funny. So we were brought together and had a rather awkward and anxious lunch in a little Indian restaurant somewhere in the Euston Road in… it would've been about 1960, and we undertook to take two weeks off with a view to doing a late night show and then I would go back and do my job.
Jonathan Miller (1934-2019) was a British theatre and opera director. Initially studying medicine at Cambridge, Sir Jonathan Miller came to prominence with the production of the British comedy revue, Beyond the Fringe. Following on from this success he embarked on a career in the theatre, directing a 1970 West End production of The Merchant of Venice starring Laurence Olivier. He also started directing opera, famously producing a modern, Mafia-themed version of Rigoletto.
Title: The person from Porlock
Listeners: Christopher Sykes
Christopher Sykes is a London-based television producer and director who has made a number of documentary films for BBC TV, Channel 4 and PBS.
Tags: Cambridge University, London, 1956, Primrose Hill, The Royal Free Hospital, University College London, Kubla Khan, Edinburgh Festival, Fringe, Cambridge University Footlights Dramatic Club, 1960, Samuel Taylor Coleridge, John Bassett, Alan Bennett, Dudley Moore, Peter Cook
Duration: 3 minutes, 55 seconds
Date story recorded: July 2008
Date story went live: 23 December 2008