NEXT STORY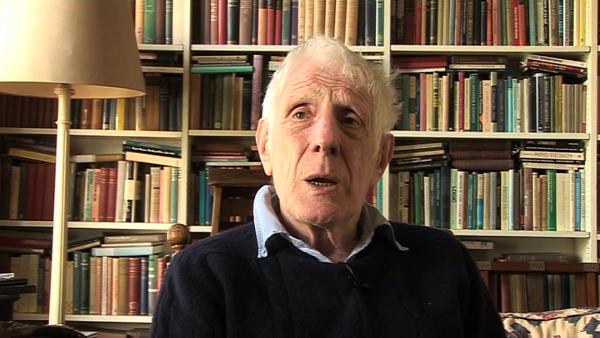 I'm not a Renaissance man
Jonathan Miller
Theatre director
1
2
3
4
5
But I felt, well... why have I given up a profession in which I know I was competent and perhaps even could've been quite original in something which really matters, and where you expect what can only be described as peer group review. Now, I'm not saying that peer group review itself is not occasionally competitive and spiteful, it often is, but at least you're being reviewed by people who are competent in the area for which you're being judged. Whereas most of the people who write about me could scarcely do any of the things that I can do with my left hand behind my back. And I find that very irritating. But it gets out. The public don't know the critics because they don't know the man behind the curtain. I know the man behind the curtain and I've said, you know, I keep on saying to myself, if only the public knew who it was that was writing about one.
I mean, I remember I had this adverse review from Brown Sewerage [Brian Sewell] when I did this big exhibition devoted to reflection at the National Gallery. And I got this extremely condescending review from this very pretentious man who really was much less qualified to do it than I was, but nevertheless his voice boomed out, and that became the accepted judgement on the work.
[Q] It's probably too painful to talk anymore about this really because it's obviously... I'm surprised that you're so vulnerable…
Well, you're vulnerable about it because it's cumulative. People say, oh, well, you should develop a thick skin. The funny thing is the constant assaults on the skin don't thicken it, they make it more and more liable to Herpes. And as I say, a lot of the time you're reviewed by people who you know perfectly well are not even... they can't do anything themselves at all except scribble.
[Q] Well let's go back to what happened next...
Well, what happened next was that I went on doing Monitor for a year and some of them were good, some of them were bad, but they were all, I think, rather interesting because I brought into the programme all sorts of people who would never have been on the programme at all...
[Q] Like Susan Sontag...
... like Susan Sontag, and even, sort of, rather major figures like Ernst Gombrich. I mean, the idea of talking to an art historian rather than to an artist would never have occurred to old Huw, or to the people who looked, you know, they just wanted... there's a sort of upper middle-class view that art is, you know, something done by important English people or important French people, and Americans were always regarded as vulgar.
So I did... I endured it for a year and then actually the programme came to an end anyway. I think probably it was the beginning of that slide towards really straightforward old-fashioned, not old-fashioned, new-fashioned celebrity intoxicated populism. But I did do two things afterwards of which I was very proud. I did Alice in Wonderland and I did a ghost story called Whistle and I'll Come to You, both of which I think were very good. The Alice in Wonderland, again, came in for an awful lot of stick, One or two people liked it, but on the whole, it wasn't liked.
As was... I also did another one, I did the film of Plato's Symposium, The Drinking Party with Leo McKern.
Jonathan Miller (1934-2019) was a British theatre and opera director. Initially studying medicine at Cambridge, Sir Jonathan Miller came to prominence with the production of the British comedy revue, Beyond the Fringe. Following on from this success he embarked on a career in the theatre, directing a 1970 West End production of The Merchant of Venice starring Laurence Olivier. He also started directing opera, famously producing a modern, Mafia-themed version of Rigoletto.
Title: Mean critics
Listeners: Christopher Sykes
Christopher Sykes is a London-based television producer and director who has made a number of documentary films for BBC TV, Channel 4 and PBS.
Tags: National Gallery, London, BBC Monitor, Alice in Wonderland, Whistle and I'll Come to You, Plato's Symposium aka The Drinking Party, Susan Sontag, Alice Gambrell, Huw Wheldon, Ernst Gombrich
Duration: 3 minutes, 51 seconds
Date story recorded: July 2008
Date story went live: 23 December 2008