NEXT STORY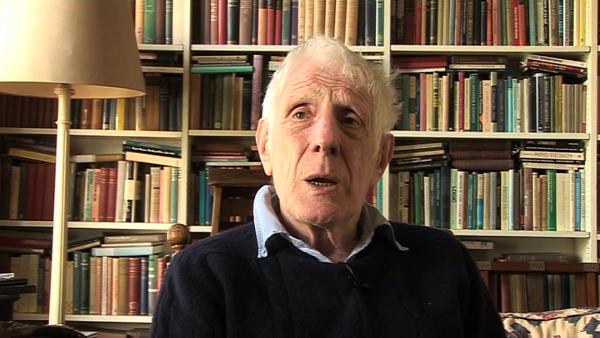 Influential modernism
The catastrophe of growing up
Jonathan Miller
Theatre director
1
2
3
4
5
[Q] Do you dream alot?
Yes, I do dream alot. As I get older I can never remember my dreams, they're just like a mouse's tail going into the mouse hole just as I wake up, and I don't catch it. But when I did Alice in Wonderland I made it as close as I could to the grammar of my own dreams. And I realise that dreams have a certain peculiar quality which is not to do with exotic impossibilities and Daliesque perspectives, but just the strange absurdity and banality of things. And that's the way I tried to make it work.
I wanted to get rid of all the animal heads. And I knew what it was about, it's about Oxford. It's about the people that Alice Liddell would've met as the daughter of the Dean of Christ Church. And it's also when William Empson wrote that famous set of essays, Seven Types of Ambiguity, the last essay is called The Child as Swain, which is the vision that the Victorians had that growing up was a catastrophe and that there was a moment in early childhood when, as Wordsworth says, 'There was a time when meadow, grove and stream, The earth and every common sight, To me did seem apparell'd in celestial light, The glory and the freshness of a dream'. Which is, in fact, what I had at the front of the credits in that film of Alice in Wonderland. But of course, the critics, with predictable idiocy said it was Freudian, and it wasn't, the very thing that it wasn't was Freudian, there was nothing Freudian about it, it was Victorian.
[Q] And there's Wordsworth at the end as well.

And Wordsworth at the end, 'The things that I have seen I now can see no more'. But did one critic notice that? I mean, it's amazing when they're on the lookout for intrusions, that the two things which were nothing to do with Lewis Carroll, are with Wordsworth at the front and Wordsworth at the end, none of them identified them, or even saw it. They were all there to pick up, oh the good doctor will be bound to be Freudian about Alice.
I wasn't Freudian, I don't think there's a Freudian thing in Alice at all. It's about the catastrophe of growing up. It's very significant that at the end what happens, after the accusation is now levelled at her rather than at the Knave of Hearts, 'All people more than a mile high to leave the Court'. 'I'm not a mile high', said Alice. 'Oh yes, you are', says the Queen, 'more than two miles high'. She's grown up and that's what the whole work is about. But, of course, try and argue that to most of the people who write in the newspapers, it's idiotic.
[Q] Are you quite interested in memory? I mean, seeing as you've got such an exceptionally good one.
I haven't got an exceptionally good memory now, my memory fails, I can't remember the names. I forgot the name of Kurt Schwitters in the middle of talking to you. I've got a memory for some things and lots of other things disappear. I mean, there are things that I do remember, but I remember less and less. Certainly not names, and I sometimes wonder whether I'm, sort of, falling into dementia, but I think it's just what people call a senior moment.
Jonathan Miller (1934-2019) was a British theatre and opera director. Initially studying medicine at Cambridge, Sir Jonathan Miller came to prominence with the production of the British comedy revue, Beyond the Fringe. Following on from this success he embarked on a career in the theatre, directing a 1970 West End production of The Merchant of Venice starring Laurence Olivier. He also started directing opera, famously producing a modern, Mafia-themed version of Rigoletto.
Title: The catastrophe of growing up
Listeners: Christopher Sykes
Christopher Sykes is a London-based television producer and director who has made a number of documentary films for BBC TV, Channel 4 and PBS.
Tags: Alice in Wonderland, Oxford, Seven Types of Ambiguity, Salvador Dali, Alice Liddell, William Empson, William Wordsworth, Lewis Caroll
Duration: 3 minutes, 37 seconds
Date story recorded: July 2008
Date story went live: 16 August 2011