NEXT STORY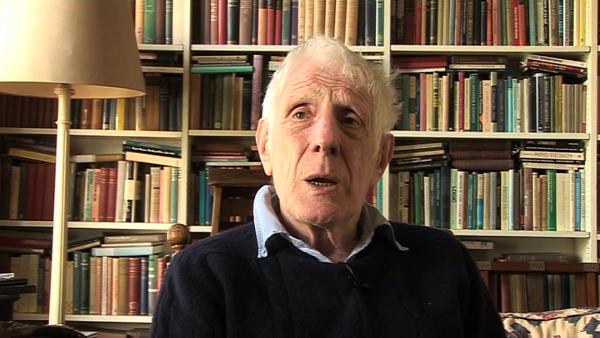 Not the brightest child at school
Hatred for ethnic loathing
Jonathan Miller
Theatre director
1
2
3
4
5
[Q] There was a time, I suppose, at school when you became aware that you were a Jew and that that somehow meant something to other people if not to you. Maybe we could go back to your childhood?
Yes… well, in my childhood I don't think that I was ever made aware, and was certainly not conscious of being thought of by my contemporaries, at any of the schools that I went to, that I was Jewish or that they thought I was Jewish and they looked on me as anomalous. It's true that I was never at a boarding school, so that I didn't have to suffer the sort of hectoring, bullying that might've gone on at a boarding school.
Many of my Jewish contemporaries who did go through places like Eton and Winchester and so forth, if they were Jewish, were certainly never allowed to forget the fact that they were. But when I went to public school, when I went to St Paul's, which had a significant number of Jewish boys, and many of, if not most of my friends at St Paul's were Jewish, I don't think I was ever made to feel by the Gentiles of the school that I was one of this rather anomalous and exotic and contemptible group called Jews. I never really became aware of anti-Semitism at all, except at a great distance when I gradually became aware after the war of what had happened in the Holocaust.
That didn't make me feel more Jewish, it made me feel, what I think almost any liberal person would feel, a sort of, a hatred for ethnic loathing. But I didn't feel that I ought to be… stand up and be counted as a Jew, except when people made anti-Semitic remarks and I would say, 'Well, I'm one, and what are you going to make of that?' But as far as my affiliation with other Jews of various sorts, on the whole I never felt it was very important to me at all.
Jonathan Miller (1934-2019) was a British theatre and opera director. Initially studying medicine at Cambridge, Sir Jonathan Miller came to prominence with the production of the British comedy revue, Beyond the Fringe. Following on from this success he embarked on a career in the theatre, directing a 1970 West End production of The Merchant of Venice starring Laurence Olivier. He also started directing opera, famously producing a modern, Mafia-themed version of Rigoletto.
Title: Hatred for ethnic loathing
Listeners: Christopher Sykes
Christopher Sykes is a London-based television producer and director who has made a number of documentary films for BBC TV, Channel 4 and PBS.
Tags: childhood, bullying, Jewish, school, Jews, anti-Semitism, WWII, Holocaust, hatred
Duration: 2 minutes, 1 second
Date story recorded: July 2008
Date story went live: 23 December 2008