NEXT STORY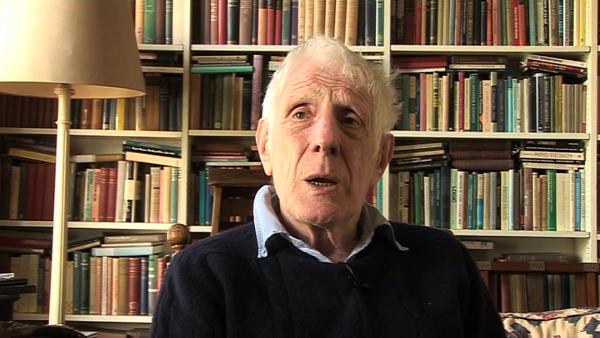 University
Not so ordinary outside interests
Jonathan Miller
Theatre director
1
2
3
4
5
[Q] What about outside classes, I mean your friends and so on… what sort of interests did you have outside school?
Well, until I came back to London in '45 I don't think I had any outside interests. I was interested in train numbers… all during the last years of the war I used to sit with working class boys on a creosoted fence outside Kings Langley station with a notebook taking train numbers, and I was just interested in them. I was interested in the various classes of locomotives that came through from Euston.
I was very fascinated by these trains with their brass funnel bindings and their various exotic names. Otherwise I was interested in chucking stones and avoiding the assault of local gangs who also wanted to chuck stones, but otherwise I don't think I had any particular interests. I don't think I developed those particular interests until I moved on to the science side when I was… I had a number of, admittedly Jewish contemporaries, Oliver Sacks amongst them, and a man called Eric Korn and a man called Michener Farney [sic], and a number of others who went into the biology class, and we became increasingly curious and capable biologists under the auspices of a very enthusiastic teacher called Mr Pask [sic], who refused to acknowledge, A, the reality of the examination curriculum, he wasn't interested in that, he just felt one ought to know as much as one possibly could, and therefore take the requirements of the curriculum in our stride.
He wouldn't tolerate our taking the full lunch hours, we had to be back after a quick bite and get back into the lab and do dissections of crayfish and dogfish and so forth and make microscope slides and stain sections of plants and so forth, which we all became very capable of… and then weekends we were expected in the winter to go to the Natural History Museum and do drawings of invertebrate limbs and understand their, what was then called, their homologies. Why was it that a bat's wing and a fish's fin and a horse's hoof were related to one another. And then in the Easter holidays we used to go up to the Scottish Marine Biological Association laboratories at Millport in the Clyde Estuary and collect and classify and dissect marine invertebrates.
And by that time, I think I'd become an enthusiastic biologist, and I think I was quite good… I got rather good at that. I wasn't much good at the other sciences. Chemistry and physics rather defeated me because I was never very good at mathematics; I mean, I could… I was a competent, you know, school cert chemist. I could answer the questions, but my deep understanding of things like the periodic table was, I think, fairly primitive. But I was good when it came to biology and I suppose I had begun to develop an ambition to do something in the natural sciences, whether or not I wanted to be a doctor at that time I wasn't quite certain.
I think probably, again, I sort of weakly accepted what my father felt that I ought to do which was, there was no point doing biology unless you became a doctor. I didn't see that there were… it was possible to become a biologist.
Jonathan Miller (1934-2019) was a British theatre and opera director. Initially studying medicine at Cambridge, Sir Jonathan Miller came to prominence with the production of the British comedy revue, Beyond the Fringe. Following on from this success he embarked on a career in the theatre, directing a 1970 West End production of The Merchant of Venice starring Laurence Olivier. He also started directing opera, famously producing a modern, Mafia-themed version of Rigoletto.
Title: Not so ordinary outside interests
Listeners: Christopher Sykes
Christopher Sykes is a London-based television producer and director who has made a number of documentary films for BBC TV, Channel 4 and PBS.
Tags: Kings Langley, Scottish Marine Biological Association, Millport
Duration: 4 minutes, 6 seconds
Date story recorded: July 2008
Date story went live: 23 December 2008