NEXT STORY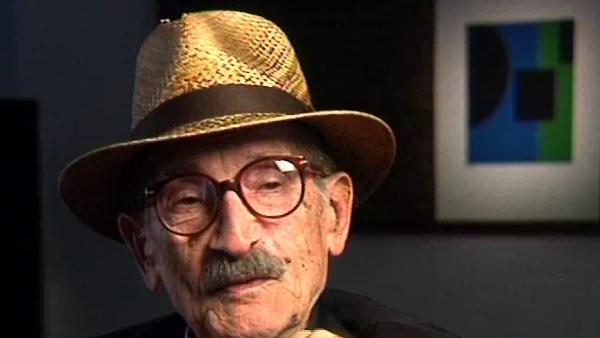 Leaving Disney and forming UPA
1
2
3
4
5
...
10
There were people who were flying all over Europe. But that's one thing which, I was in animation, so naturally, we had little of that aspect of it. But we had a captain and he was sort of gung-ho a little bit and he was a flyer, he's a pro. And he would [unclear], he says, 'You want to fly? You want to experience flying to people'? 'Yeah, sure'. So he took them off, he covered them over with plastic and then he does the loops and this poor bastard, you know, he didn't expect it to do loops, so he came down as sick as a dog. But the guy who was a captain, he was part of us, you know, animation, and he just did that to most of the people who wanted to go up for the ride. And he came to me - 'No thank you. No, thank you'. I knew what he was doing, he took you up and then, wow. While he was having fun, but meanwhile you were getting sick as a dog because he was doing that. But that world was, if I was in another army, it would have been a different… different experience. Here, you were at home, really. That was comfortable. And they were really, as ugly as war is and all that, but some people were really just already in the hierachy, they were bigger than the numbers, they were really nice. Nobody ever used… Remember the film where there was a little short guy? He was a big actor in Hollywood. He wasn't more than 5' 9", 5' 11", 5' 10". And he was walking around with a stick with a nail at the bottom and picking up cigarette butts and he was a big actor. And he did one film, he was on a horse, he was going some place and then he gets in this bar, there was two guys, two sailors, you know? And he was short, he was a little guy and they began to push him around and his horse was outside, you know? And he was just taking that for a while. And then he got to the point where they were really pushing him around a little bit and then he let one go, wham. And that was beautifully done, he hits this guy and I mean, he lands it, and this guy just rolls and rolls, slides right through the damn bar and everything. And then he just walks out quietly, sits on his horse and drives away. Famous film. And he was married to a very important Hollywood actress and he was... But there he was, you see, he's picking up bits and butts and I'm upstairs drawing and having fun, you know? And he was a million dollar actor. And yet no one would tell him, 'Hey, you left a butt over there'. Forget it, he just went by picking up cigarette butts. But it was a joke, you know, to a degree.
The late Hungarian-American film-maker Jules Engel is best known for his contribution to the field of animation. His work includes the dance sequences in Walt Disney's 'Fantasia' and the creation of 'Mr Magoo'. His films and lithographs are housed in museums all over the world and have won many awards.
Title: Hollywood's high-flyers
Listeners: Tamara Tracz Bill Moritz
Tamara Tracz is a writer and filmmaker based in London.
William Moritz received his doctorate from USC and pursues parallel careers as filmmaker and writer. His forty-four experimental and animation films have been screened at museums in Paris, Amsterdam and Tokyo, among others. He published widely on Oskar Fischinger, James Whitney, Bruce Conner, the Fleischers and 200 pages of animation history for an AbsolutVodka website. He wrote chapters for the "Oxford History of Cinema", appeared in several television documentaries, curated art exhibits and received a lifetime achievement trophy from the Netherlands Royal Academy for his work with visual music. He has served on film festival juries and received an American Film Institute filmmaking grant. His poetry and plays are also performed and published. He is a leading expert of Oskar Fischinger and recently published a biography of him. He teaches at The California Institute of the Arts.
Tags: Air Force, Hollywood, Europe
Duration: 3 minutes, 28 seconds
Date story recorded: April 2003
Date story went live: 24 January 2008