NEXT STORY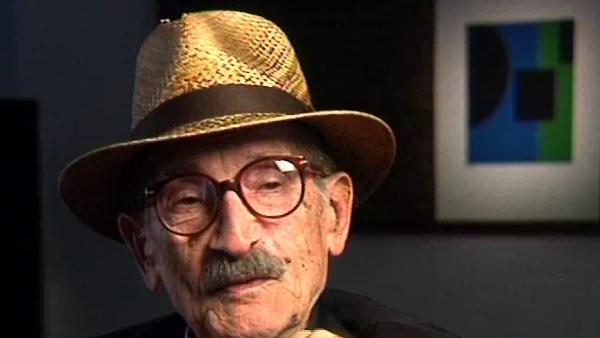 The difference between working in a studio and working for oneself
Train Landscape
1
...
4
5
6
7
8
...
10
Train Landscape, I think that was the third, third film. But what I did with Train Landscape... because at that time, that was the first time that I'm making film. I just... I took some aerials and I shot, just shot it. I shot maybe 5 foot, 8 foot, 10 foot, 11, you know? I was, I was just shooting for footage. Then once I had the footage, then I began to look at the footage and I began to edit, you know, put 'em together. And that's the way... And I was lucky because it works, it works beautifully. Beautiful sound score, it's great. But primarily, at that time, I was just shooting a certain amount of footage and then I know I'm going to edit. And by editing, at that time, I'm going to put the film together, you know? And… and it worked. It worked. And then it got easier to go that way, you know? But I never storyboarded anything. No. I just had a… I started with the one drawing and I move with the drawing, one drawing and that develops, that develops, develops... and next thing you know, you really… you really go and you're moving. And you… But don't forget, by that time, I had at least 15, 18 years of experience with UPA [United Productions of America] and Disney and all of that. So… so it was not like you never done it, only that you never did a film. You see? But at least with all that experience, you knew how to edit. Edit is the wrong word, because that gets to the hierarchy. No, it is making a film, you know, and not worrying about… What is an edit, you know? I don't know what's an edit.
The late Hungarian-American film-maker Jules Engel is best known for his contribution to the field of animation. His work includes the dance sequences in Walt Disney's 'Fantasia' and the creation of 'Mr Magoo'. His films and lithographs are housed in museums all over the world and have won many awards.
Title: "Train Landscape"
Listeners: Tamara Tracz Bill Moritz
Tamara Tracz is a writer and filmmaker based in London.
William Moritz received his doctorate from USC and pursues parallel careers as filmmaker and writer. His forty-four experimental and animation films have been screened at museums in Paris, Amsterdam and Tokyo, among others. He published widely on Oskar Fischinger, James Whitney, Bruce Conner, the Fleischers and 200 pages of animation history for an AbsolutVodka website. He wrote chapters for the "Oxford History of Cinema", appeared in several television documentaries, curated art exhibits and received a lifetime achievement trophy from the Netherlands Royal Academy for his work with visual music. He has served on film festival juries and received an American Film Institute filmmaking grant. His poetry and plays are also performed and published. He is a leading expert of Oskar Fischinger and recently published a biography of him. He teaches at The California Institute of the Arts.
Tags: Train Landscape, United Productions of America, Disney
Duration: 1 minute, 54 seconds
Date story recorded: April 2003
Date story went live: 24 January 2008