NEXT STORY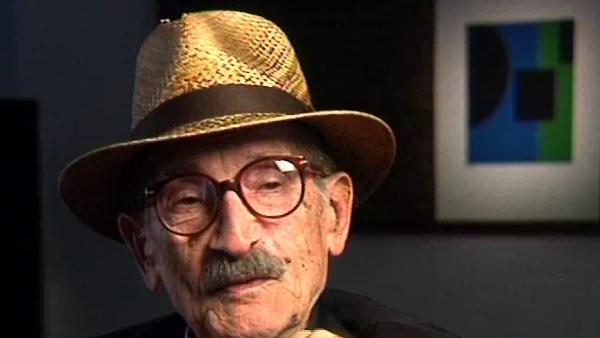 Using geometric shapes in my work
1
...
6
7
8
9
10
Tamara Toumanova, don't forget you're dealing with somebody who you see is, she's 14 years old. Fourteen years old and she runs the show. I mean, she's a big ballerina and she was with the dark hair. She was the really truly a Russian looking person. She's 14 or 15 and beautiful face, incredible face. But she is Russian… Russian. Her face, and that helped. And then I... At that time I was still where I was afraid to make a move, you know? Anyway, I wanted a photo so I went backstage and I went upstairs. And in that upstairs was her dressing room and she always had her mother with her. And her mother was probably five foot, two, you know, about that tall. And I was hoping... I congratulated her, you know, and I was hoping that she has an extra photo. And she was so nice, she said, 'Oh, by all means, you come back this weekend, whatever and I'll have a photo for you of myself'. So five day - three or four days go by and I go backstage and I'm standing in one corner, backstage, and there she is over there, in the middle of the stage, surrounded by all the males, all tuxedo, black tie, you know, and I'm standing over there and my God, she spotted me.
[Q] Yeah.
She spotted me. And she told this man to wait and she ran across the stage...
[Q] We're still rolling? We've got a minute left. Oh, we're still rolling? Oh I'm sorry Jules, keep going.
And she was in the middle of the stage and she spotted me. And my God, she said… and she left all those people in tuxedos, ran upstairs, got the photo, came down with a photo and she give me a photo. Now, that's really something special, you know? And then she went back to the man in the tuxedos, you know? But, was that nice of her to do that? I'm a nobody, she doesn't... you know? I just wanted the… just asked for a photo and that was something I had to do.
The late Hungarian-American film-maker Jules Engel is best known for his contribution to the field of animation. His work includes the dance sequences in Walt Disney's 'Fantasia' and the creation of 'Mr Magoo'. His films and lithographs are housed in museums all over the world and have won many awards.
Title: Tamara Toumanova
Listeners: Tamara Tracz Bill Moritz
Tamara Tracz is a writer and filmmaker based in London.
William Moritz received his doctorate from USC and pursues parallel careers as filmmaker and writer. His forty-four experimental and animation films have been screened at museums in Paris, Amsterdam and Tokyo, among others. He published widely on Oskar Fischinger, James Whitney, Bruce Conner, the Fleischers and 200 pages of animation history for an AbsolutVodka website. He wrote chapters for the "Oxford History of Cinema", appeared in several television documentaries, curated art exhibits and received a lifetime achievement trophy from the Netherlands Royal Academy for his work with visual music. He has served on film festival juries and received an American Film Institute filmmaking grant. His poetry and plays are also performed and published. He is a leading expert of Oskar Fischinger and recently published a biography of him. He teaches at The California Institute of the Arts.
Tags: Tamara Toumanova
Duration: 2 minutes, 42 seconds
Date story recorded: April 2003
Date story went live: 29 September 2010