NEXT STORY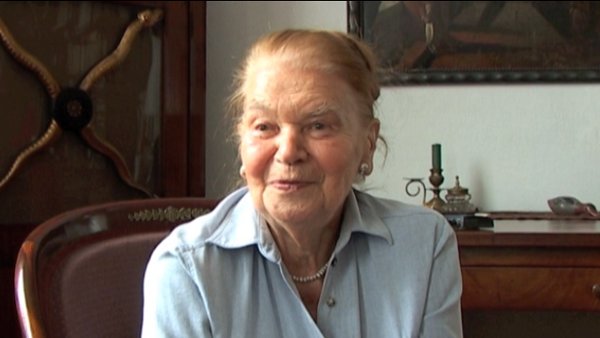 Artur Międzyrzecki
New life in the new Polish reality
1
2
3
4
5
6
...
10
Od roku mniej... mniej więcej 1950 i również z tego powodu rozpoczęło się dla mnie trochę nowe życie. Trzeba było na nowo jak gdyby wszystko zaplanować, umieścić się jakoś w tej rzeczywistosci polskiej. Sprzyjało temu... temu otrzymanie przeze mnie mieszkania – znaczy bardzo ładnej kawalerki w Śródmieściu na ulicy Partyzantów, to jest przy Marszałkowskiej – i tam właściwie mogłam śmiało pracować. No na początku ta praca tak bardzo intensywnie nie szła i zajmowałam się właściwie nie tyle pisaniem wierszy, ile utrzymywaniem się. A to polegało na tym, że po prostu trzeba było zarobić jakieś pieniądze, które zarabiałam na słuchowiskach radiowych, na tekstach do filmów dokumentalnych, na... no a to już w późniejszym czasie, kiedy już poznałam Artura Międzyrzeckiego i właściwie już byliśmy małżeństwem. Wtedy jeszcze prowadziłam taki dział – nie dział, tylko pracowałam w reportażu w tygodniku "Świat", który potem został zlikwidowany w stanie wojennym. Tak była... tak wyglądała mniej więcej ta... to moje życie – polegało głównie na pracy. Stosunkowo mało komunikowałam się ze światem i z ludźmi, ale muszę powiedzieć, że zaznałam wtedy bardzo wielu przyjaznych odruchów ze strony moich przyjaciół i także powstały nowe przyjaźnie.
From around 1950, for this reason, too, I began a new life. I had to plan everything from the beginning, I had to find my place in this new Polish reality. I was helped in this by the fact that I was given an apartment, I mean a very attractive studio flat in the town centre on Partisan Street, by Marszałkowska Street. And there I could get down to serious work. Initially, this work didn't progress all that intensively, and I spent more time supporting myself than I did in writing poetry. That was simply because I had to earn some money which I did by writing radio plays, the text to documentaries, then later when I had already met Artur Międzyrzecki and we were already married, I was in charge of a department, well it wasn't really a department, I was only writing reports for the weekly Świat which was later closed down during martial law. That's how it was more or less, what my life was like, it was mainly all about work. I had relatively little contact with the world and with other people but I have to say, I was shown much kindness by my friends and new friendships were formed.
Born to a Polish father and a Russian mother, Julia Hartwig (1921-2017) was a Polish poet, essayist, translator and author of children's books. She studied at the University of Warsaw, the Catholic University in Lublin and the Jagiellonian University in Kraków. Czesław Miłosz called her 'the grande dame of Polish poetry'. Julia Hartwig was one of the few poets in Poland who made masterly use of poetic prose. She translated poems by Apollinaire, Rimbaud, Max Jacob, Cendrars and Supervielle, and published monographs on Apollinaire and Gerard de Nerval. She also translated from English, and published a large anthology of American poetry which she co-edited in 1992 with her late husband, the poet Artur Międzyrzecki.
Title: New life in the new Polish reality
Listeners: Andrzej Wolski
Film director and documentary maker, Andrzej Wolski has made around 40 films since 1982 for French television, the BBC, TVP and other TV networks. He specializes in portraits and in historical films. Films that he has directed or written the screenplay for include Kultura, which he co-directed with Agnieszka Holland, and KOR which presents the history of the Worker's Defence Committee as told by its members. Andrzej Wolski has received many awards for his work, including the UNESCO Grand Prix at the Festival du Film d'Art.
Tags: Świat, Partisan Street, Marszałkowska Street, Artur Międzyrzecki
Duration: 1 minute, 34 seconds
Date story recorded: June 2010
Date story went live: 14 June 2011