NEXT STORY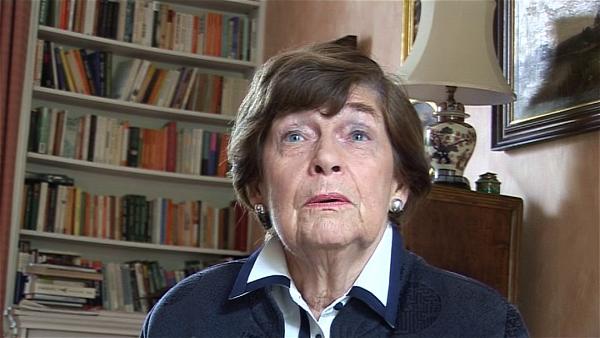 Refusing a marriage proposal
Covering the Paris fashion collections for Picture Post
Katharine Whitehorn
Writer
1
2
3
4
Picture Post was absolutely marvellous in every way. You went in the office... you didn't know whether you were going to spend the day doing the letters page or were going to be sent down to Cornwall to interview a couple who were about to set out going round the world with their baby on a ketch or sent up to Northumberland to interview somebody who thought she'd got a rare disease or... And then, one of the best bits was I... there was only one other woman journalist on the paper at that time, Venetia Murray, and when they... they were... Picture Post was actually going downhill, we didn't realise it properly, and it was changing editors with rather a lot... as most people change their underwear... and when they sacked Lionel Birch he went off to the South of France, and the only other girl on the paper, Venetia Murray, went too.
And so there was nobody there to do the Paris collections. So he said, 'Would you... you've got to go and do the Paris collections'. So I remember buying two hats with the taxi ticking over at the door and going on... and the thing was, in those days they were terribly, terribly secretive about the collections. And they... you had to have a card, and the individual invitations. And I had no idea how I would get this. But I had a bilingual boyfriend at the time, a very distinguished journalist, now dead, called Edward Behr. And he said, 'Oh, I think I can fix that'. And he rang up the couture people and he said, 'Yes, that's all right, we got it fixed'. And I said, 'How on earth did you do it?' He said, 'Well I pretended to be the rédacteur en chef of Picture Post'. I said, 'What's rédacteur en chef?' He said, 'Editor'. I said, 'God'.
But anyway, that worked out all right. But in those days they were... only the national newspapers were allowed to print photographs right away, and the magazines had to choose what they wanted photographed and then come back a week or a few weeks later to do it. So I chose the clothes and I chose models. And Edward fixed up... I thought it would be good to photograph them in the Musée Rodin and so he fixed up that I could do that through a friend of his. I found the letter a few years ago when I was writing autobiography which said that his friend had done it, and he's spoken to the head of the museum and he said all right, and he will no doubt ask the statutes if they find it all right. And I photographed the clothes with the statutes, and they were jolly good pictures too.
But before that... horror. I was supposed to meet the Picture Post photographer, and he didn't turn up. It was not a regular guy, it was a... So what on earth, just report back home? No. But I'd met a photographer on the plane, he'd tried to get off with me, and I rang him up and said, I had... must have... I had his [inaudible]... I said could you do this? And he said, 'No, I can't, it's not really my sort of thing, but you better... what you better do is go to Magnum, the photo agency, and ask them if they've got somebody'. So I did that and they set me up with Frank Horvat who had not up until that time done fashion much and became a world famous fashion photographer. But this was, I think, his first one.
Then I told Picture Post that their photographer hadn't turned up and got a telegram back, 'Seek photographer at Magnum'. And one of the best moments of my whole life was cabling back, 'Have already sought... got photographer from Magnum'. And they're pretty good photographs too, it was great fun. And so I did that.
[Q] Sounds wonderfully glamorous thing.
Oh, it was terrific.
[Q] Paris was really Paris in the '50s.
Oh yes. And it got more difficult, you see. Because of this, there was a delay. So we had to switch the thing from whenever... I think it was the Wednesday we were going to do it, or Thursday, to Saturday. And some of the girls couldn't... so we had to redo the permissions at the museum. We had to... some of the girls couldn't work Saturday, had to then choose new girls. And they were, of course, not necessarily the same sizes as the original ones... had to do it in new clothes. I'd never done any of this before but it...
Somehow or other that kind of thing, this overheated fashion world, you know, at the end of it you feel a tremendous sense of... oh I've done this, you've cured… you've saved the world, you've cured cancer. And it was just... fashion is crazy, but it is enormous fun. It's exasperating but it's terrific.
A distinguished journalist and renowned author, Katharine Whitehorn (1928-2021) has written for The Spectator and Picture Post. She was the first woman to have her own column in the Observer and was their star columnist for the best part of 40 years. Educated at Newnham College, Cambridge, is recognised as someone who has transformed 20th century women's journalism. She took a keen interest in social welfare issues, was a Fellow of the Royal Society of Medicine and was the first woman rector of the University of St Andrews.
Title: Covering the Paris fashion collections for "Picture" "Post"
Listeners: Bob Bee
Bob Bee is a Scottish documentary maker who has made many films on the Arts and Science for ITV, BBC and Channel Four.
Tags: Picture Post, Musée Rodin, Magnum Photos, Paris fashion, haute couture, Venetia Murray Alexander, Lionel Birch, Edward Samuel Behr, Frank Horvat
Duration: 4 minutes, 50 seconds
Date story recorded: September 2010
Date story went live: 16 February 2011