NEXT STORY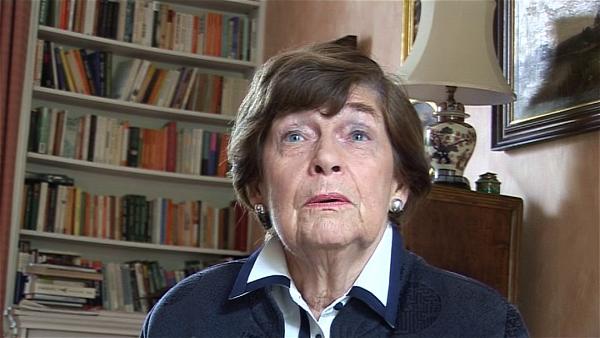 'Don't propose in bed'
Refusing a marriage proposal
Katharine Whitehorn
Writer
1
2
3
4
Picture Post was actually on its last legs though I'm not sure how much we realised it. And they kept swapping editors and trying this and trying the other. And by this time Edward Behr had gone, he'd taken, he'd... by this time Edward Behr was in Paris, and he came over. And I remember Gavin and I went to a press opening of some stuff called Norway Sild. Why we both went to it I can't think. And I remember sitting in the park with Gavin and saying, 'Oh God, he's going to come back. I know he's going to ask me to marry him. What am I going to do?' And Gavin said, 'Well you can't expect me to be disinterested'. And I said, 'What do you think?' And he said rather slowly, 'Well I think you're a girl in her late '20s who wants to get married'. That was certainly the truth.
Anyway, we then went back to Picture Post, and to be told it had folded. And that was it. And actually Edward didn't propose because I'd left my passport behind and had to go back for it and come the next day and he was so fed up with this. But when I said, 'Look, I really think we should call it a day'. And I'm amazed I was so sensible, but what I felt was that if I didn't have a job I'd become far too dependent on him. And he said, 'Would it make any difference if I asked you to marry me?' And I said, 'No. Because the kind of person you want me to be isn't the kind of person I want to be'. And he resented what he called my do-gooding side which I thought I probably would have rather more of.
A distinguished journalist and renowned author, Katharine Whitehorn (1928-2021) has written for The Spectator and Picture Post. She was the first woman to have her own column in the Observer and was their star columnist for the best part of 40 years. Educated at Newnham College, Cambridge, is recognised as someone who has transformed 20th century women's journalism. She took a keen interest in social welfare issues, was a Fellow of the Royal Society of Medicine and was the first woman rector of the University of St Andrews.
Title: Refusing a marriage proposal
Listeners: Bob Bee
Bob Bee is a Scottish documentary maker who has made many films on the Arts and Science for ITV, BBC and Channel Four.
Tags: Picture Post, Paris, Norway Sild, Gavin Tudor Lyall, Edward Samuel Behr
Duration: 1 minute, 36 seconds
Date story recorded: September 2010
Date story went live: 16 February 2011