NEXT STORY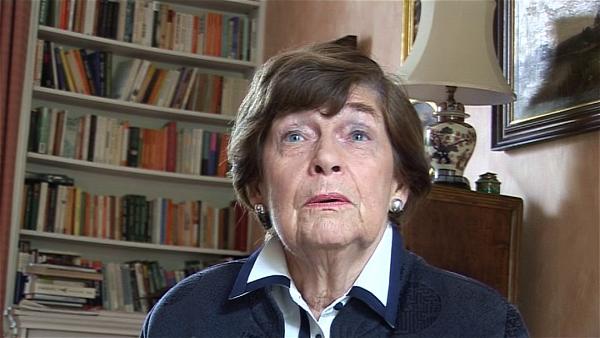 Changing fashion journalism
The feminisation of Fleet Street
Katharine Whitehorn
Writer
1
2
3
4
The Observer was looking for a woman's editor. And this is of more general interest because the point was David Astor had a lot of time for psychology and for women's interests and family and so on. And up until that point the women's side had been done brilliantly by somebody like Anne Scott-James as really mostly clothes and cooking and so on.
And David wanted far more in the way of human interests and things like that, which newspapers simply didn't do at all at that time. And he hired a man from The Guardian called George Seddon. And The Guardian was memorable at this point because Mary Stott, who was the great kick starter of proper women's journalism in that century, she had been chief... she'd been a sub-editor which is not... is not the deputy editor, it's the person who makes the things fit. And you know, corrects the spelling and that kind of thing. She was actually, oddly enough, she was the daughter of a woman... another woman journalist. Anyway, she was very good at it, on The Guardian, Manchester Guardian as it then was. She was so good at it that she'd written a little pamphlet which was required reading for anybody who took it over. And then they said, 'Oh well, Mary, we're sorry, we'll have to put you over on to the women's page because we have to train up the deputy chief sub-editor to be the next chief editor, and that of course has to be a man'. So you can imagine what this extremely able woman felt.
But well she went over, and she resolved to make the women's pages something completely different. And she did. Because they had everything in it that hadn't been in women's pages before... might have been here and there in magazines. Things like education, health things. An enormous amount about human relationships, marital relationships, children, this kind of thing. Far, far wider. And George thought, when he... George Seddon thought, when he came to The Observer, that he was just doing what Mary Stott had done in The Guardian. But actually he took it even further because he wanted to make the things that you do when you're not working as important as the things that you do when you are working.
And one forgets this completely, just how arid newspapers used to be. They weren't arid in the sense of not having scandal stories and that, but they... serious papers had things that were of interest to busy men. Which meant business pages, politics, hot news, foreign news, sport, and, of course... lots of sport. And you know, things like how marriages work out, that wouldn't have shown up anywhere except in the legal pages, the divorce, something like that.
And George thought the features pages ought to be all the things that you did with your... the rest of your life. And he sort of expanded the woman's pages that weren't woman's pages, they were under titles like 'Ego' or 'You' or something like that. And he was really the father of all these women's pages that aren't women's pages. And even more, I think, helped to kick-start what Felicity Green, who was doing the same thing on the Mirror, different... doing different things, she was far more design-oriented, of what she calls the feminisation of Fleet Street.
Because if you think about it, any newspaper now has masses of stuff about what goes on in real life, and in detail. And... doing this, you know, people say, well you know, were newspapers so dull in those days? Well, don't you remember that wonderful line from Blithe Spirit where the man tried to make conversation with his wife over breakfast says, 'Anything interesting in The Times this morning?' And she says, 'Don't be ridiculous, Charles'. And the whole scene has totally changed now, and Mary Stott and George Seddon and Felicity Green, and of course the time was going that way.
A distinguished journalist and renowned author, Katharine Whitehorn (1928-2021) has written for The Spectator and Picture Post. She was the first woman to have her own column in the Observer and was their star columnist for the best part of 40 years. Educated at Newnham College, Cambridge, is recognised as someone who has transformed 20th century women's journalism. She took a keen interest in social welfare issues, was a Fellow of the Royal Society of Medicine and was the first woman rector of the University of St Andrews.
Title: The feminisation of Fleet Street
Listeners: Bob Bee
Bob Bee is a Scottish documentary maker who has made many films on the Arts and Science for ITV, BBC and Channel Four.
Tags: The Observer, The Guardian, The Times, Blithe Spirit, Mirror, Manchester Guardian, David Astor, Francis David Langhorne Astor, Anne Eleanor Scott-James, George Seddon Mary Stott, Felicity Green
Duration: 4 minutes, 14 seconds
Date story recorded: September 2010
Date story went live: 16 February 2011