NEXT STORY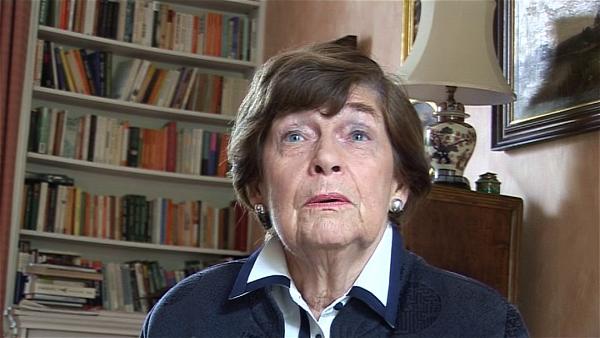 Having written about sluts, people felt I was one of them
'I want a baby and a column'
Katharine Whitehorn
Writer
1
2
3
4
I found a letter to my mother, I kept it... she kept every letter I'd ever written to her, which was very useful when I was writing my autobiography. And she found a letter I'd written her, I said, 'Just had an interview with the manager, the general manager, and the person who edits the colour magazine, and they want me to do, predictably, something every week for the colour magazine, and I don't want to do it. I won't'.
And they said, 'Well what do you want then?' And I said, 'I want a baby and a column'. And the point was that I'd had two miscarriages, and they said if you keep on at this pace you'll never hang on to one. And I was getting a bit old. So by this time all my friends on The Spectator had, more or less, left and so at that point I stopped doing fashion and they switched my Spectator column over to The Observer. So that I joined The Observer in 1960, did fashion for two and a half years... three, I can't remember exactly... but produced Bernard James Lyle in 1964.
And Bernard Levin's comment on this name, Bernard Levin was a great friend, not exactly named after him but that was the idea, said 'Yes, scores... three:nil. Two goals scored by Jim Lyle. Praise Highlands for Sir James Lyle. Bernard James Lyle, do you feel...? Do you plead innocent or guilty for this...? Yeah, I think this will do as a name'. You know?
And from then on I did the column not quite non-stop because I stopped to try and do a bit of editing, but it didn't work very well... but more or less non-stop I was doing that from 1964 until they stopped it in 1996. And I did other big things as well but the column was the absolute... Gavin regarded it as the tree on which I hung other things. You know? So...
[Q] What was the...? There was a particularly famous one, wasn't there, where you started with...
Oh, the sluts one, yeah. Well, it was all part of this change in women's journalism, you see? That all women's journalism had been very... telling them how to be perfect, telling them how it ought to be done. This is the fashion, this is how you ought to raise... Even when they started talking about children it was how you ought to raise your children. And I knew that real life wasn't like that in the least, and I wrote a piece, and interestingly She magazine, which was supposed to be the liberated women's magazine in the '60s, it folded in the end... I had offered She magazine an article on Are you a slut? and a quiz. And they turned it down. They said they might take the quiz, they didn't want the article.
And I remember going downstairs from... we had... our flat was a, sort of, atticy bit in an old Victorian house... going downstairs, picking up the post, and coming back crying because it was the rejection slip for that article on sluts. Which was the thing that everybody still now remembers. So anyway...
[Q] How did it start, the article, can you remind us?
Said have you ever taken anything back out of the dirty laundry because it's become relatively the cleaner thing? How many things are there in the wrong room? Books in the kitchen, cups in the bedroom, whatever it was. And how many on the floor of the wrong room? You know? And a few other things. I said, if you can answer yes to any of these, you are one of us, the poor, beaten down and misunderstood Army of Sluts. Because the sluts are the people who've tried terribly hard to be clean and tidy and organised and they just don't seem to be able to make it.
A distinguished journalist and renowned author, Katharine Whitehorn (1928-2021) has written for The Spectator and Picture Post. She was the first woman to have her own column in the Observer and was their star columnist for the best part of 40 years. Educated at Newnham College, Cambridge, is recognised as someone who has transformed 20th century women's journalism. She took a keen interest in social welfare issues, was a Fellow of the Royal Society of Medicine and was the first woman rector of the University of St Andrews.
Title: 'I want a baby and a column'
Listeners: Bob Bee
Bob Bee is a Scottish documentary maker who has made many films on the Arts and Science for ITV, BBC and Channel Four.
Tags: The Spectator, The Guardian, She Magazine, Are you a slut?, Bernard James Lyle, Henry Bernard Levin, Gavin Tudor Lyall
Duration: 4 minutes, 5 seconds
Date story recorded: September 2010
Date story went live: 16 February 2011