NEXT STORY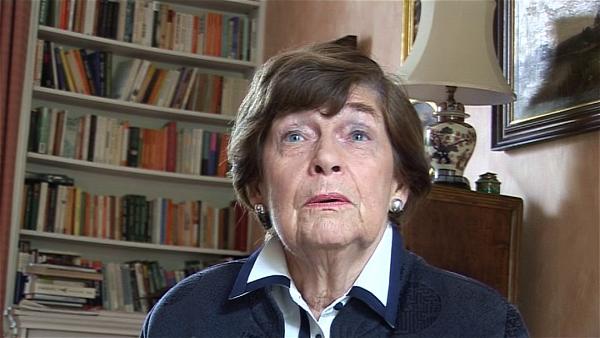 The change in women's journalism
Having written about sluts, people felt I was one of them
Katharine Whitehorn
Writer
1
2
3
4
The thing was, and I put this in the book actually because... because of sluttishness, as I say, I'd written it for She, and then I wrote it again, and Gavin said, 'You really can't print this thing while you're still a fashion editor'. So I reluctantly put it on one side. And then when I wasn't a fashion editor I thought, well this week I don't have to write a piece, except that I couldn't find it. Had to write it all over again. So, I mean, that was the absolute mark of the slut.
But it's become a sort of signature piece. And then it got the most fantastic response from the readers who wrote in and said, 'Yes, yes, I'm like that. I've always been there'. 'Oh God yes, I remember, I found myself wiping the kitchen table with the kitten'. And one woman wrote in and said she found two Dutch caps she had in at the time, and someone else said it was the opposite trouble, she had six children to prove it. And somebody else said, 'I am the only woman... My baby is the only baby in Ruislip that has blue nappies'.
You know, and from then on, at one point we had... goodness knows why, we had a sort of... panels of Observer readers who were supposed to consult about things. And I remember that when... going round to interview people, used to be, you know, she's from The Observer, and they'd sort of cleaned and tidied up, and as it was, they kicked the dirty laundry out of the way, they went, 'Oh come in, you know, you're one of us'. It sort of changed everything. People felt I was one of them.
A distinguished journalist and renowned author, Katharine Whitehorn (1928-2021) has written for The Spectator and Picture Post. She was the first woman to have her own column in the Observer and was their star columnist for the best part of 40 years. Educated at Newnham College, Cambridge, is recognised as someone who has transformed 20th century women's journalism. She took a keen interest in social welfare issues, was a Fellow of the Royal Society of Medicine and was the first woman rector of the University of St Andrews.
Title: Having written about sluts, people felt I was one of them
Listeners: Bob Bee
Bob Bee is a Scottish documentary maker who has made many films on the Arts and Science for ITV, BBC and Channel Four.
Tags: The Observer, She Magazine, Gavin Tudor Lyall
Duration: 1 minute, 32 seconds
Date story recorded: September 2010
Date story went live: 16 February 2011