NEXT STORY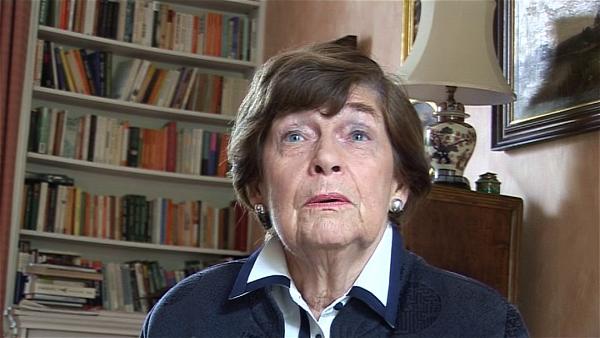 We always drank a fair bit
Katharine Whitehorn
Writer
1
2
3
4
And I'm a huge believer in the Freedom of Information Act. One of the most disobliging photographs ever taken of me is with carrying a banner for the Freedom of Information Act in Trafalgar Square. Well, there are demos and demos, aren't there? The only... the most recent one was one to try... a local one, I live in Camden, and they were trying to stop our GP practices and turn them all into polyclinics which are lousy for the old because all old people have a lot of things wrong with them and only somebody who knows them well can spot when this one matters, as opposed to all the others which are chronic.
And there we were, gathered under the statue of Camden at the Mornington Crescent end of Camden Town. You know, that statue of Camden with... always has a pigeon on its head? And we had huge t-shirts over our coats and we were carrying banners saying 'Keep NHS private... public'. Sorry. Awful slip. Can you cut that out? And a policeman appeared, I said, 'Well you're not going to get much trouble from this lot, are you?' He said, 'We're here to stop you getting run over'. And we went down the inner lane very slowly because only the first bit was one where we were going to see a lot... a lot of people were going to see us. And there was a policeman saying, 'Shuffle along, ladies'.
So there we are, that's the... nowadays, you see, I'm not so much crusading for women, I'm on the side of 'the aged'. They are my parish, as it were. And you know, they can demonstrate too.
A distinguished journalist and renowned author, Katharine Whitehorn (1928-2021) has written for The Spectator and Picture Post. She was the first woman to have her own column in the Observer and was their star columnist for the best part of 40 years. Educated at Newnham College, Cambridge, is recognised as someone who has transformed 20th century women's journalism. She took a keen interest in social welfare issues, was a Fellow of the Royal Society of Medicine and was the first woman rector of the University of St Andrews.
Title: 'Shuffle along, ladies'
Listeners: Bob Bee
Bob Bee is a Scottish documentary maker who has made many films on the Arts and Science for ITV, BBC and Channel Four.
Tags: Freedom of Information Act, Camden, Camden Town, Trafalgar Square, Mornington Crescent, GP, aged
Duration: 1 minute, 32 seconds
Date story recorded: September 2010
Date story went live: 16 February 2011