NEXT STORY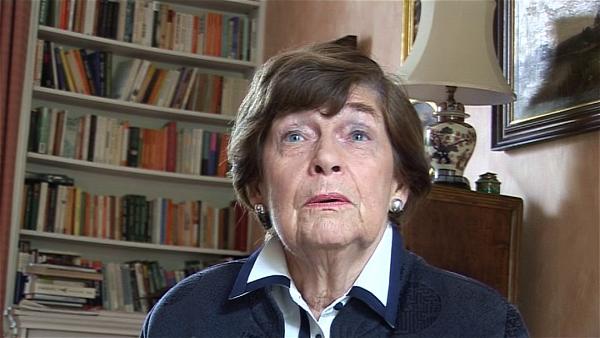 Being the only one who...
Katharine Whitehorn
Writer
1
2
3
4
Of course there are things I wish I had done differently, particularly... especially during Gavin's last illness. Because I did all I knew how to do, but I now know more about things, in particular.
He didn't sleep well at all for the last few years of his life, and he had… he was prescribed Temazepam which was... I did not know until later, nobody told me, can be a depressive if you take it constantly. So he didn't need that, did he? And also, it... after a time it didn't work too well. So for the last few years of his life he was having awful trouble sleeping. Depressed for the last six months when he was ill.
Now I don't sleep too well. I have a regime of sleeping pills which I have orchestrated brilliantly. I know exactly what each one does so that I don't take too many of them and so on and so on. And if I'd been as clever with my... with his pills as I have been with mine I could have made his last six months so much better because I know a bit more now about the despair you get when you haven't slept. And I was dutifully doing what the doctor had said, and even when the kids were in school I was much more inclined to take the school's view of what was going wrong, and Gavin fought the boys' corner much better than I did because he wasn't... oh, I don't know whether it's being a school master's daughter. I tend to think that they perhaps know best. And they don't. But as far as drink goes, yes of course, we do drink too much. But a lot of people in that era did and they were great times to live in and yes, we could have handled the end decades better, but do I wish we had always been teetotallers? Well I've met some, you know. They don't have much of a good time.
A distinguished journalist and renowned author, Katharine Whitehorn (1928-2021) has written for The Spectator and Picture Post. She was the first woman to have her own column in the Observer and was their star columnist for the best part of 40 years. Educated at Newnham College, Cambridge, is recognised as someone who has transformed 20th century women's journalism. She took a keen interest in social welfare issues, was a Fellow of the Royal Society of Medicine and was the first woman rector of the University of St Andrews.
Title: Regrets
Listeners: Bob Bee
Bob Bee is a Scottish documentary maker who has made many films on the Arts and Science for ITV, BBC and Channel Four.
Tags: Temazepam, Gavin Tudor Lyall
Duration: 2 minutes, 3 seconds
Date story recorded: September 2010
Date story went live: 16 February 2011