NEXT STORY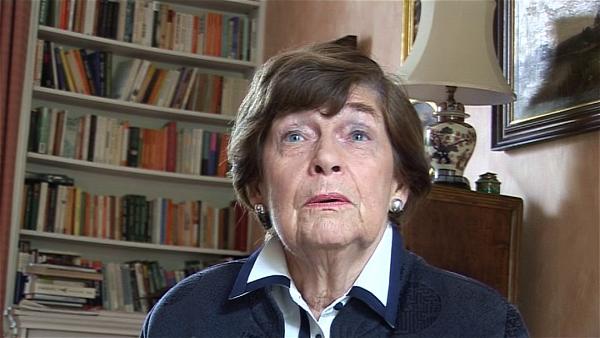 Studying in the US gave a completely different slant on Europe
Teaching English in Finland
Katharine Whitehorn
Writer
1
2
3
4
I put in for a job not run by the British Council but they did the appointing for it, and went off to be... a curious thing in Finland, called a teacher's secretary. It was running a club in Finland.
The point was that after the war the Finns who... at the end of the war they were on the wrong side, of course, which didn't help. They were quite good at English insofar as it was what they got out of books, but they hadn't had the chance to speak it, and they also wanted to ally themselves with Britain and America more than... I mean, the one person they really, really hated was Russia, that was all right. And so there was a sort of network of these little Anglophile clubs dotted all over Finland.
And I was sent out to run one of them. And it was, I suppose, fairly daunting, because I didn't know a word of Finnish, and I was the first person in that town... I mean, I wasn't taking over an existing club. It was... I was to start it up. And I arrived at the platform in Mikkeli and I didn't know any Finnish and they... nobody around knew any English. And there was nobody there to meet me, and nobody knew I should be there. However the station master started ringing round desperately and finally somebody came and retrieved me.
And it was very good because as there wasn't a club there, I built... had to decide all my own way. And it was a mixture of teaching English as a foreign language which I had done before, and also running social events. And it was the first time I'd ever been able to run anything, you know, run something for myself, and it gives you a great feeling of power, you know. 40 serious Finns running around the room making funny noises in order to learn English.
And you know, we put on scenes from The Begger's Opera and all kinds of... and it was great, and the Finns were very uptight to start with because they, you know, incredibly shy. But once you got to know them they were marvellous. And, I mean, all this was '53 to '54, and quite a lot of the people I knew, of course, have died, but I'm still in touch with two of them. And I learnt not to ski particularly, you know the overland kind which is easy, but to skate... began to skate. And sauna, which the whole world mispronounces, it is... Finnish is a phonetic language and it's sa-oo-na, sa-oo-na. And the whole world says sauna.
And when I was trying to record the book for BBC they stopped me when I said sauna and said, you pronounce that wrong. And I said, 'I haven't pronounced it wrong, the world pronounces it wrong'. But we corrected that.
A distinguished journalist and renowned author, Katharine Whitehorn (1928-2021) has written for The Spectator and Picture Post. She was the first woman to have her own column in the Observer and was their star columnist for the best part of 40 years. Educated at Newnham College, Cambridge, is recognised as someone who has transformed 20th century women's journalism. She took a keen interest in social welfare issues, was a Fellow of the Royal Society of Medicine and was the first woman rector of the University of St Andrews.
Title: Teaching English in Finland
Listeners: Bob Bee
Bob Bee is a Scottish documentary maker who has made many films on the Arts and Science for ITV, BBC and Channel Four.
Tags: British Council, Finland, Beggar's Opera, BBC, Mikkeli, John Gay, Johann Christoph Pepusch
Duration: 2 minutes, 53 seconds
Date story recorded: September 2010
Date story went live: 16 February 2011