NEXT STORY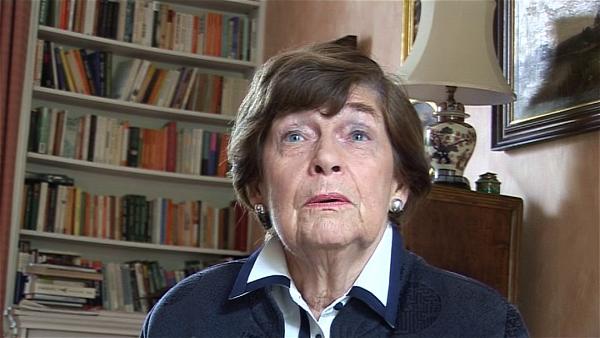 'That' picture
Deciding on an unsettled profession
Katharine Whitehorn
Writer
1
2
3
4
If I'd had the kind of visa where I could have stayed I think I would have done. It was just absolutely the place to fall in love with.
But I had the kind of visitor's visa where if you even asked how you might be able to stay you were instantly deported. And this very nearly was my undoing because you were allowed to go out into Canada and back again, that didn't count. And I wrote a letter to the Student Employment Bureau in San Francisco saying I am going to be over there and get a job... I want a job for the summer. And I wrote to the visa people saying can I go in and out of Canada... and I put them in the wrong envelopes.
And then I wrote the most difficult letter of my whole life, however. The visa people were just baffled, said thank you very much for informing us of your plans. It was all right. But you know, it was a narrow scrape. So I came back to London with a broken heart and determined to be a journalist.
[Q] Where did that come from? Was there just one day when you suddenly thought this was going to be...?
I can't quite remember. People ask me that and I don't really know. I'd done a little bit of journalism, reviewing books for John O'London's Weekly when I was in publishing. And I liked writing. And I think it was partly that of the seven summers out of Cambridge I'd succeeded in not working through most of them, and that I thought I'd like an unsettled life, and if I go on like this my father had sort of more or less said, look, you can't go on like this, I'll never rise... And I wanted an unsettled profession as it were.
A distinguished journalist and renowned author, Katharine Whitehorn (1928-2021) has written for The Spectator and Picture Post. She was the first woman to have her own column in the Observer and was their star columnist for the best part of 40 years. Educated at Newnham College, Cambridge, is recognised as someone who has transformed 20th century women's journalism. She took a keen interest in social welfare issues, was a Fellow of the Royal Society of Medicine and was the first woman rector of the University of St Andrews.
Title: Deciding on an unsettled profession
Listeners: Bob Bee
Bob Bee is a Scottish documentary maker who has made many films on the Arts and Science for ITV, BBC and Channel Four.
Tags: USA, Canada, San Francisco, London, Cambridge, visa, John O'London's Weekly
Duration: 1 minute, 38 seconds
Date story recorded: September 2010
Date story went live: 16 February 2011