NEXT STORY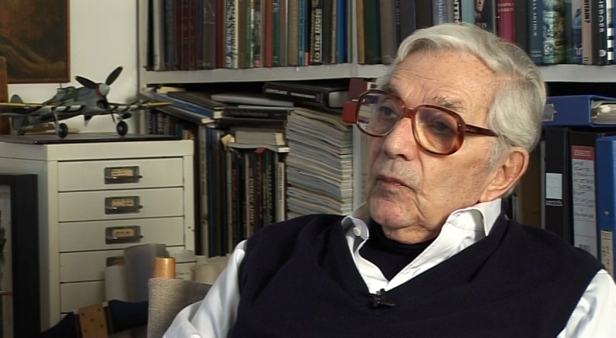 Bernard Voisin: the shipbuilder
The first thing that went wrong
1
2
3
4
5
6
...
15
The first thing that went wrong, I was trying to have a good time at Juan-les Pins, places like that, and came back at 4 o'clock in the morning, but fell asleep and went straight into the deckchairs of the Promenade des Anglais in Nice. Fortunately, there was nobody at 4 o'clock in those deckchairs. But I didn't have a driving licence, I didn't have the papers of the car, and of course the police arrested me. And I tried to explain to them... because my French was pretty good – remember, I had been to a French lycée in Germany – and... I said the Mercedes belonged to a friend of mine who is a shipbuilder, Bernard Voisin.
So what happened, they had a jeep in front of me with a machine-gun and a jeep behind me with a machine-gun –remember, this was during the Algerian problem – and they escorted me with two jeeps to Villefranche to the villa of Bernard Voisin. And he opened up a bottle of brandy at about 5 o'clock in the morning, and I got away with it, you know?
And then two days later... and then I stopped... Two days later, I had the car parked right near the dry dock, right, which wasn't dry because of the boats and ships there was water in it. But it was a very old Mercedes, and you had to start the engine on the crank, you see. What I had forgotten, that I had left the – because it didn't have very good brakes – I had left the engine in gear, and I started the engine, and for once that fucking engine started! I jumped, because I didn't ... you know, the drop was here... onto the engine cowling of the old Mercedes, and myself and the Mercedes went... dropped straight into the water, and that was about a 23-foot drop, and then the water, you see? And Bernard... he never forgot it.
And when I came out of the water, you know – it took some time – the first thing I said, 'Put my' – I had a Longines – 'put that watch into fresh water, otherwise it will rust!' And then Bernard, who was a very experienced diver, got the big crane from Nice, and it took them two or three days, nobody could get in or out of the dock, and they managed to pull the car out, and nobody lost his life – luckily I've got pictures of all this. And the only thing was that Jack Warner wrote a telex or whatever it was at the time to Voisin and the shipyard saying he didn't accept any responsibility for my madness. So that was one of the early experiences I had in films.
[Q] And Bernard was still your friend after you'd dropped his Mercedes in the dry dock?
Yes, yes, he was... he was quite a crazy guy himself.
Sir Kenneth Adam (1921-2016), OBE, born Klaus Hugo Adam, was a production designer famous for his set designs for the James Bond films of the 1960s and 1970s. Initially, he trained as an architect in London, but in October 1943, he became one of only two German-born fighter pilots to fly with the RAF in wartime. He joined 609 Squadron where he flew the Hawker Typhoon fighter bomber. After the war, he entered the film industry, initially as a draughtsman on This Was a Woman. His portfolio of work includes Barry Lyndon and The Madness of King George; he won an Oscar for both films. Having a close relationship with Stanley Kubrick, he also designed the set for the iconic war room in Dr Strangelove. Sir Ken Adam was knighted by Queen Elizabeth II in 2003.
Title: The first thing that went wrong
Listeners: Christopher Sykes
Christopher Sykes is an independent documentary producer who has made a number of films about science and scientists for BBC TV, Channel Four, and PBS.
Tags: Juan-les-Pins, Nice, Germany, Villefranche-sur-Mer, Algeria, Longine, Captain Horatio Hornblower, Bernard Viosin, Jack Warner
Duration: 4 minutes
Date story recorded: December 2010 and January 2011
Date story went live: 14 September 2011