NEXT STORY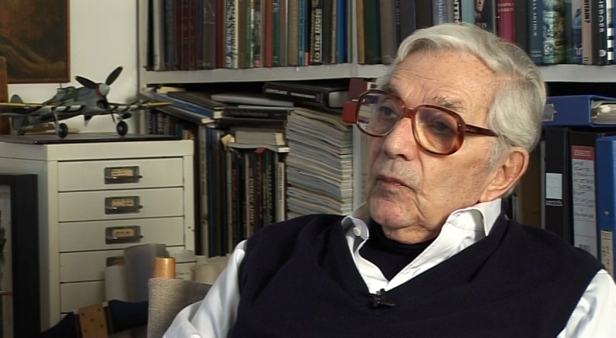 'We hit a gale... I thought enough is enough, of boats'
The last time I had to build a boat
1
...
3
4
5
6
7
...
15
I think it was about the last time I had to... I had to build a boat, too, because I had to build the galley of the Greeks – you know, attacking Troy – and I got an old coal-barge and I found a family of shipbuilders in a place called Torre del Greco in Italy, who up to great-grandfathers had all been in ship building, and I brought them over to Fiumicino.
And they cladded the coal-barge with planks, you know, which they etched, they used these etches, they didn't use… And it really looked sensational, but since I needed a 1000, you know, we used a little bit of trick-work to... to get the whole fleet, you see. I only built one and we had nothing but problems. I mean, the shipbuilder, who was the head of the family, on the trial trip, I said, 'Well, you better come out with us'. And I also I had some rowers from the famous rowing-club in Rome, you know, they were all gigantic.
And, of course, when we went out it was very calm, and we were about six, seven miles offshore, and there was a rising sea. And I had a sort of naval expert with me, and he said 'I don't like it'. I said, 'Nor do I!' All our... a great many of our oarsmen were seasick, you know. I had, of course, engines too, Chrysler engines on the thing, so we got all the oars, you know, we placed them all along inside, and we were in a real gale.
And also, we didn't... we had communications, but the communications were on a barge, which – because in those days they hadn't... we had to use the army for radio contact, and so on – so I tried to get... I was on the... on the main... get the boat back to Fiumicino. But they'd put up there – whatever it was, yellow, or black balls – The Port... The Port was closed, you see, because of the gale, so we had to go all the way to Anzio.
By this time Jack Warner had heard about this, and he said, 'You've got to get... you've got your stars onboard, you got to get the ship back, you know, we can't lose all our crew!' And we got the... the galley back to Anzio, but the pontoon, on which the costume, makeup, and army radio-operators were, was miles away in this gale, and when we finally got an ocean going tug to tow it to Anzio, it looked as though everybody was dead on that… they were all so seasick, you know.
Well, I had quite enough, I must say, after that one, and... but it was quite a successful film, but it was really the last time I sort of did major... built major boats. And I said, 'I've had enough of that now' and get into more set-design and since I'd already done some of it on Helen of Troy, which was very exciting, because working with somebody like Eddie Carrere was quite brilliant. There were two brothers, they were, I think, of Mexican origin, but they were living in Hollywood. And they were extraordinarily talented designers, so I learnt a lot.
Sir Kenneth Adam (1921-2016), OBE, born Klaus Hugo Adam, was a production designer famous for his set designs for the James Bond films of the 1960s and 1970s. Initially, he trained as an architect in London, but in October 1943, he became one of only two German-born fighter pilots to fly with the RAF in wartime. He joined 609 Squadron where he flew the Hawker Typhoon fighter bomber. After the war, he entered the film industry, initially as a draughtsman on This Was a Woman. His portfolio of work includes Barry Lyndon and The Madness of King George; he won an Oscar for both films. Having a close relationship with Stanley Kubrick, he also designed the set for the iconic war room in Dr Strangelove. Sir Ken Adam was knighted by Queen Elizabeth II in 2003.
Title: The last time I had to build a boat
Listeners: Christopher Sykes
Christopher Sykes is an independent documentary producer who has made a number of films about science and scientists for BBC TV, Channel Four, and PBS.
Tags: Helen of Troy, Torre del Greco, Italy, Fiumicino, Rome, Anzio, Hollywood, Jack Warner, Eddie Carrere
Duration: 4 minutes, 45 seconds
Date story recorded: December 2010 and January 2011
Date story went live: 14 September 2011