NEXT STORY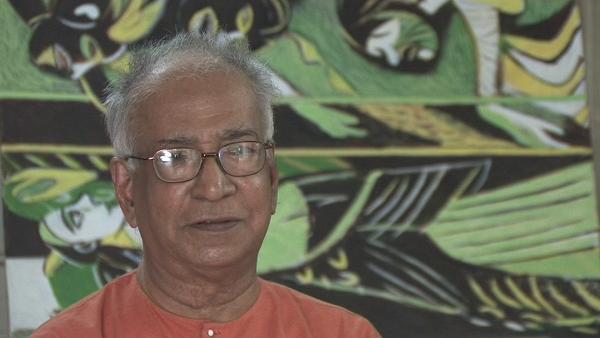 Mohandas Gandhi and art (Part 2)
Mohandas Gandhi and art (Part 1)
1
2
3
4
5
...
8
Gandhi selected Nandalal as more or less the only artist that he could trust. So if you are thinking in terms of, thinking about Gandhi for instance. Gandhi, if you're thinking in terms of Gandhi's sort of relationship with art, there's only one or two instances where he has spoken out on art. It was I think sometime when he was on a fast in [unclear], a young man called G Ramachandran who was studying at that time in Santiniketan and who later become a sort of confirmed Gandhian. He was studying in Santiniketan and he went through the good offices of CF Andrews to go and meet him and interview him on his views on art. That is the longest there is of statement by Gandhi on art. And that statement itself, I mean, he talks about Gandhi's sort of morals and all, and you can see Gandhi holds on to certain principles. He says moral is very necessary, he talks about Oscar Wilde, while he was not moral enough, this kind of a thing. Now they go round and round like that, I mean, Gandhi apparently was held on to certain notions that were current at that time. That this is what art is, this is what art is not. But then when after that, when you think, he I mean is his, sort of Gandhi's life story, when he went to the round table conference and was returning. Apparently he wanted an audience with the Pope, but the Pope refused. But then he sort of was in Rome so he went to the Vatican and spent about 2 or 3 hours in the Vatican art collection. Then apparently the press hounded him saying that we have heard that you have no interest in art but you spent so much time here. Then he's supposed to have said that it is not that I don't have but I do not have time for art. And then here whatever I have seen, there are certain things I'm terribly impressed with. But I can't comment on them unless I spend instead of 3 hours, 3 months here. So I wouldn't say anything about that, and especially refers to I don't know which one it is, sort of a painting of a crucifixion, which he was very impressed with. Then he said really it is not that I have no interest in art. In fact, if through sheer force of circumstances I didn't become a political activist I would probably have liked to be a musician. That is what he told the people at that time. But when he came, when in the beginning till he was a political activist, and he used to be always very close to the way, I mean take interest in how the Congress ideology and things like that. After a while he withdrew from it, he resigned from the Congress. And at that time suddenly he was a sort of a, like a sort of a senior statesman controlling what was happening in the Congress, but then he was out of it. But then he took one major step: he tried to instil into the Congress session a cultural input. In fact, from I think it started sometime probably in [unclear] or somewhere in 1934 or so, I don't exactly remember the date now. He said that at one time when Ramachandran was questioning him, he said how can a man have any idea, a sort of a thought about art, when a place like Orissa and Kalahandi, people are dying out of hunger. I mean they're all like skeletons there. I cannot think about it. Similarly, when he was going to, I think, Karnataka in those days, to receive the donation of 500 rupees, he was going all the way. Somebody asked him would you go and visit the Belur temples. Then he is supposed to have said, 'Ah, they should be sort of things that are worth visiting but then when do I have the time? I cannot have the time for it'. But this same Gandhi later he organises in I think 19... in Lucknow, he sort of asks people to organise a whole vista of art and craft practice in India. And there he sort of himself goes and opens it and then talks about it. And he found Nandalal, he commissioned Nandalal to do that. So it was an art exhibition that had a whole array of traditional art. Then the living tradition, the arts of here, and then it covered the whole from Kashmir to here, all the kinds of crafts. And I have read somewhere that Nandalal also had decided it will have a long mural by Jamini Roy which I haven't been able to locate. But it is there in writing somewhere that he had done. Now during that Gandhi comes and says it is true, I said that the starving millions are there and that is my priority. But then you come and see what beautiful things that in spite of their situation that they're able to produce. Now this continues after that. And then after that thing he catches on Nandalal and says that I'm going to have a village congress session in Faizpur. And in Faizpur, I want it to be a villagers' congress and I want you to organise the whole thing.
KG Subramanyan (1924-2016) was an Indian artist. A graduate of the renowned art college of Kala Bhavana in Santiniketan, Subramanyan was both a theoretician and an art historian whose writings formed the basis for the study of contemporary Indian art. His own work, which broke down the barrier between artist and artisan, was executed in a wide range of media and drew upon myth and tradition for its inspiration.
Title: Mohandas Gandhi and art (Part 1)
Listeners: Timothy Hyman
Timothy Hyman is a graduate of Slade School of Fine Art, London, in which he has also taught. In 1980 and 1982, he was Visiting Professor in Baroda, India. Timothy Hyman has curated many significant art exhibitions and has published articles and monographs on both European and Indian artists.
Duration: 6 minutes, 55 seconds
Date story recorded: 2008
Date story went live: 10 September 2010