NEXT STORY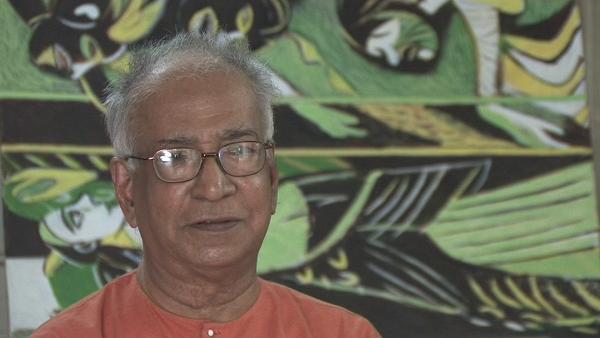 Leaving Santiniketan for Baroda
1
2
3
4
5
...
8
Satyajit Ray was there at Santiniketan in 19... I think '39, '40 or '40 about. My, I mean Sushila, studied almost in the same year as him, so she knew Satyajit Ray, but I didn't. By the time I went to Santiniketan, Satyajit Ray already was a well established graphic designer and later he went, the organisation that employed him, sent him to London. Then his interest changed. But it is true that after I had been noted as an artist, Satyajit Ray was aware of what I was doing and he had talked to various people about it, and I knew what he was doing. Of course, all other people knew and that he had made a big impact on me, he had seen. And Satyajit Ray...
In the films?
Huh?
In film.
In film, also in the graphic design scene. He was the first person in the graphic design scene then who had tried to implement various lessons he had learnt in Santiniketan, the brass drawing of a certain kind, the children's book of a certain kind and all, which he found Nandalal had done what was called the Sahaj Path and done the illustrations for it.
Wasn't he closer to Benode Bihari than Nandalal?
Yes, I know, he was, he was. He was closer to Benode Bihari and in a certain way closer to Ramkinkar too. That was, Ramkinkar was greatly interested in hearing Western music and he had recordings of that. So, in that sense he was, and on the other sense Benode Bihari's reading of various things was much more, so he was very close to him. That's right. But then Satyajit Ray I met only once in a sort of casual encounter on the station. We were introduced to each other, we said hello to each other, after that we haven't met. So I had to say that when they asked me to do the Satyajit Ray memorial lecture in Calcutta. So that is, without being very close to each other, we knew what each other was doing, hmm.
KG Subramanyan (1924-2016) was an Indian artist. A graduate of the renowned art college of Kala Bhavana in Santiniketan, Subramanyan was both a theoretician and an art historian whose writings formed the basis for the study of contemporary Indian art. His own work, which broke down the barrier between artist and artisan, was executed in a wide range of media and drew upon myth and tradition for its inspiration.
Title: Satyajit Ray
Listeners: Timothy Hyman
Timothy Hyman is a graduate of Slade School of Fine Art, London, in which he has also taught. In 1980 and 1982, he was Visiting Professor in Baroda, India. Timothy Hyman has curated many significant art exhibitions and has published articles and monographs on both European and Indian artists.
Duration: 2 minutes, 37 seconds
Date story recorded: 2008
Date story went live: 10 September 2010