NEXT STORY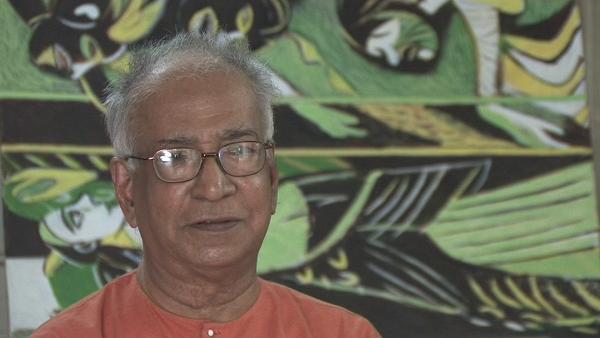 Life at Baroda
The partition of Indian and going to Baroda University
1
2
3
4
5
...
8
Weren't you working on the Benode Bihari mural just as partition was taking place?
Well, in 19... the partition, in 1947, yes, but then at that time we didn't know what it was going to be. In fact, when I, even when - when Mahatma Gandhi was shot, I was in Santiniketan. But then the whole question is we didn't know where it would end, this sort of thing, but then it finally came to be and these institutions came up in their sort of way. So that's how I got to Delhi, and in Delhi I was with this agency in Delhi and Punjab for about, I think, nearly 2 years, and later drifted to other agencies. So I was a kind of freelance artist for a while, till finally I got a call from here.
From Baroda?
From Baroda, and that was largely because, I mean, I would not have known about it, except for the fact that my friend Sanko Chowdhury was here and he sort of sent me a cutting of the advertisement of here. And that's, although it took me by surprise because here was a faculty, in a traditional university trying to have kind of an interdisciplinary sort of... because at that time when they thought in terms of the faculty of fine arts, that included visual arts, music, all categories of performing arts, and architecture, which was something which at one time the people of Santiniketan were thinking of, that kind of an interrelated thing. So, I was enthusiastic to come here, and then I came for the interview and somehow got taken, yes.
And that was very early in Baroda's history as a fine arts school?
You see, Baroda, there was a kind of small fine arts school with the college of technology. In those days, the fine arts used to go with the college of technology. But then it didn't have much of a status. I mean, there weren't too many people here. So when the Baroda University was founded, and that was in '49, '50, they utilised certain funds which the Maharajah, Sayaji Rao Maharajah, kept for certain kind of new areas of education. Part of it was earmarked for the areas if education which involved women. So, Baroda University was one university which seriously made different sort of colleges for social work and home science. Then with the same funds, they made this college of fine arts. So really speaking, college of fine arts, college of social work and college of human science, the Baroda University was a pioneer in giving them full status as sort of component of faculties, while in the other universities they had small sections of faculties, but they didn't have. That's how the whole thing... So I, it started in 1950 and I came here in 1951.
KG Subramanyan (1924-2016) was an Indian artist. A graduate of the renowned art college of Kala Bhavana in Santiniketan, Subramanyan was both a theoretician and an art historian whose writings formed the basis for the study of contemporary Indian art. His own work, which broke down the barrier between artist and artisan, was executed in a wide range of media and drew upon myth and tradition for its inspiration.
Title: The partition of Indian and going to Baroda University
Listeners: Timothy Hyman
Timothy Hyman is a graduate of Slade School of Fine Art, London, in which he has also taught. In 1980 and 1982, he was Visiting Professor in Baroda, India. Timothy Hyman has curated many significant art exhibitions and has published articles and monographs on both European and Indian artists.
Duration: 4 minutes, 12 seconds
Date story recorded: 2008
Date story went live: 10 September 2010