NEXT STORY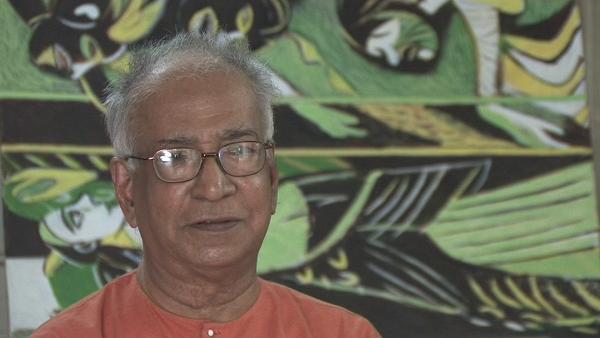 My wife, Susheela
From Baroda to writing and the Slade School of Art, London
1
2
3
4
5
...
8
Had you begun to write already?
Really speaking, I wrote very little at that time. To a certain extent, whatever I wrote, there was somebody or the other asking me to publish. In the beginning, Sanko Chowdhury in later times, I think the first, the moving focus for instance, I had already written small things by that time, but the main initiative came from Sheikh. Sheikh said, 'Why don't we get it all together and publish it?'
That's 1978?
Huh?
That's not till 1978. That's a lot later.
Hmm, later, otherwise these little things started sometime, I think I started writing sometime at the end of 1961 or so.
And by that time you had already been to the Slade.
I was in the Slade in 1955.
What was that like?
Well, I was very happy to be in the Slade because well, I wanted to see around a lot, and in Slade you could just go in and go out very easily. I mean, it was not tight deeply enough. In fact, at the time, at that time I was in the Slade, I think Slade had probably on their register 300 students and probably 300 visiting teachers, except one or two of the Slade publicists were permanently there. So the general impression Slade gave me at that time, it was largely a drawing school, kind of a thing. I mean, they gave a lot of importance to a certain kind of drawing. So I used to go to the drawing studio early in the morning and do various kinds of things I did, and some of my tutors were quite happy with what I did. But later I thought that probably what I should do is to learn, do some print-making. So I used to spend part of the time in the print-making studio, and there I became fairly friendly with Anthony Gross and with Ceri Richards.
With Ceri Richards?
Ceri Richards, and they were very nice, and they were very open and they understood quite a bit about the... Those two people I enjoyed being with at that time.
KG Subramanyan (1924-2016) was an Indian artist. A graduate of the renowned art college of Kala Bhavana in Santiniketan, Subramanyan was both a theoretician and an art historian whose writings formed the basis for the study of contemporary Indian art. His own work, which broke down the barrier between artist and artisan, was executed in a wide range of media and drew upon myth and tradition for its inspiration.
Title: From Baroda to writing and the Slade School of Art, London
Listeners: Timothy Hyman
Timothy Hyman is a graduate of Slade School of Fine Art, London, in which he has also taught. In 1980 and 1982, he was Visiting Professor in Baroda, India. Timothy Hyman has curated many significant art exhibitions and has published articles and monographs on both European and Indian artists.
Duration: 2 minutes, 53 seconds
Date story recorded: 2008
Date story went live: 10 September 2010