NEXT STORY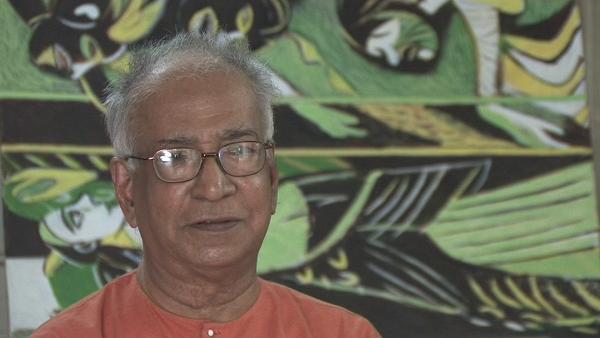 London, language, tradition and the various influences on my art
1
2
3
4
5
...
8
Susheela came to Kala Bhavan for a special kind of training under Nandalal Bose. She was picked by her previous teacher, Sucheta Kripalani, who was then the president of the Kasturba Trust Committee. The Kasturba Trust wanted to work towards the betterment of women in remote villages. In fact, it was part of their condition that the villages where they were should be at least 20 miles away from the nearest town. Susheela was enlisted as one of the persons who will look after the cultural sort of education, and probably train them in a few crafts that may be useful to them, and generally sort of give them an idea of how to keep the surroundings, home and everything. So, Nandalal was one person who had given thought to all this in the beginning itself, so Gandhi should have thought at that stage he is the person under whom, that's how she came here. Otherwise, she had been here when Satyajit was here, and she...
Sorry, she'd been here, Santiniketan, not Baroda?
Not Baroda. Then... this is... I am talking about Santiniketan. So she was in Santiniketan before, but then she left after a year because of certain personal circumstances. Then she came again for this. At that time I was a student there, that's where we met. She knew Benode Bihari much earlier, because Benode Bihari had, after she studied here, Benode Bihari had once or twice gone to Banaras and stayed with them. So it is at Benode Bihari's place that we came to know each other a little more closely. Then I found that we had many things in common, though our nature was not necessarily the same, but we had. Then she left to the Kasturba Trust and I came to Delhi, but we kept in touch, and after about 2 years away, so we decided we will get married. So, from '48 to '40, we got married in '50. When I got married, I had thrown up all the jobs and I didn't have any income. So she had this job and they used to earn a little, so we had kind of a beggar's honeymoon in Rishikesh with the little money she had and some money I borrowed from friends. Well, it was great fun, except that it wasn't fun for her because I went down with jaundice during that time. So, instead of enjoying our time, she spent time nursing me. Anyway, I got out of it, then when I came here of course she had given up the job and then come, though she had a great desire to do social work again. So there were Kasturba Trust centres in Gujarat too, and the chairman of those centres was big Sarabhai's wife, Sarla Sarabhai. So she came to visit us and persuade her, but then she had a little problem here after she came, and that was related to breathing. So, I was not too anxious that she should go to the villages and fall ill there and within our scanty resources we couldn't sort of afford it. So finally she had to sort of stop doing that. But then she had already done what she was supposed to do in the beginning, train some people, and later there was another reason why she disassociated from the aim because when the various governments in nationalist India had their own kind of budgeting, they started helping these institutions, and while they took help from the government, the government put various restrictions that it became very difficult for them to function according to the ideals that they wanted to. So Susheela thought that this is the time I should leave, otherwise I will be in constant conflict with the people who are providing the funds. So she still kept a kind of loose contact with the organisation. Her elder sister was already the administrator of a larger centre of the Kastoolwa Trust in Allahabad, and through her she used to be in contact with them. So I remember her going to one or two workshops and then spending some time with them. But as time went on, that contact became lesser and lesser.
Did she come with you to London?
No, she didn't. At that time, that arrangement was not there. I was, I think one... our group that went to London on British Council's scholarship was probably the second group. At that time, the scholarship didn't allow anybody to be taken there and they didn't pay for it, and then we couldn't afford it either. So I had to go to London.
Was that hard for her?
It was hard for her because we later came to be that she was with child. She in the beginning sort of wrote to me that well, she will probably work somewhere, but then she found that this is the... but luckily her sister came forward and said you come and stay with us, I mean we will be very happy. So Uma was born in Allahabad in my absence.
KG Subramanyan (1924-2016) was an Indian artist. A graduate of the renowned art college of Kala Bhavana in Santiniketan, Subramanyan was both a theoretician and an art historian whose writings formed the basis for the study of contemporary Indian art. His own work, which broke down the barrier between artist and artisan, was executed in a wide range of media and drew upon myth and tradition for its inspiration.
Title: My wife, Susheela
Listeners: Timothy Hyman
Timothy Hyman is a graduate of Slade School of Fine Art, London, in which he has also taught. In 1980 and 1982, he was Visiting Professor in Baroda, India. Timothy Hyman has curated many significant art exhibitions and has published articles and monographs on both European and Indian artists.
Duration: 7 minutes, 14 seconds
Date story recorded: 2008
Date story went live: 10 September 2010