NEXT STORY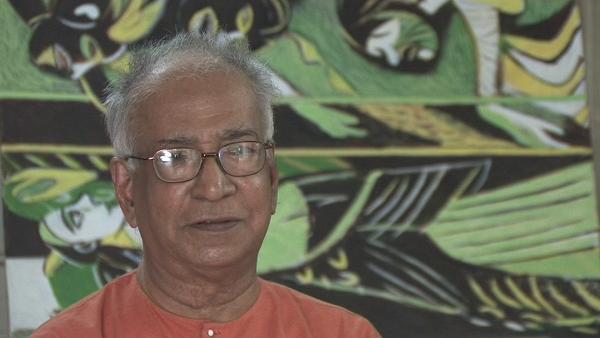 The art fairs (Part 1)
How the vernacular language of traditional art influenced my work
1
2
3
4
5
6
...
8
Do you think through the figure of the, sorry, the... through the figure of the vernacular artist you found something more primal in your own language?
That's right, yes, and then I also found that there are various things, various ways that do and don't. Now, each kind of practice probably has a little grammar within it which helps it. Even when one practice goes to help another, then it creates a certain kind of, let us say, a sort of a bridge from one grammar to another, this kind of thing. That has been very interesting for me to do, and in fact when I started doing these terracottas, or when I started also doing some tapestries, though I haven't done too many tapestries, just I started it off here, but then here terracottas and fibre sculpture, there are various possibilities here, and terracotta using clay as something which has its own kind of language. That I could see that this was there in certain of the objects, the primitive cultures used, or you could see that kind of a language in the Mohenjo-daro terra cottas and things of that kind. They continue till a certain time then they disappear, then the surface finish becomes more important than this kind of manipulation of the essential metrics. So all this has helped me a little to sort of change my perspectives while doing these things, but I know, I mean these are all side things, but then they help you to visualise things a little better and better.
KG Subramanyan (1924-2016) was an Indian artist. A graduate of the renowned art college of Kala Bhavana in Santiniketan, Subramanyan was both a theoretician and an art historian whose writings formed the basis for the study of contemporary Indian art. His own work, which broke down the barrier between artist and artisan, was executed in a wide range of media and drew upon myth and tradition for its inspiration.
Title: How the vernacular language of traditional art influenced my work
Listeners: Timothy Hyman
Timothy Hyman is a graduate of Slade School of Fine Art, London, in which he has also taught. In 1980 and 1982, he was Visiting Professor in Baroda, India. Timothy Hyman has curated many significant art exhibitions and has published articles and monographs on both European and Indian artists.
Duration: 2 minutes, 8 seconds
Date story recorded: 2008
Date story went live: 10 September 2010