NEXT STORY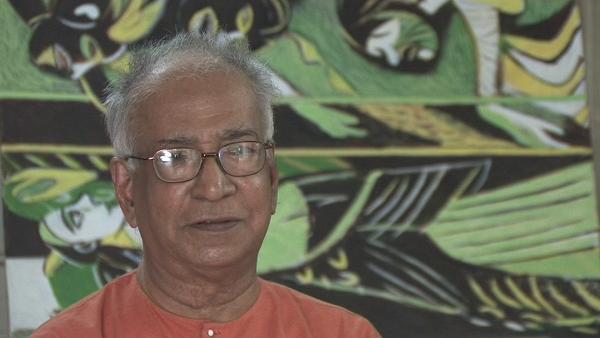 Hybrid art
Baroda – Saturday lectures and 'the experience of the normal world'
1
...
3
4
5
6
7
8
One of the reasons why I was thinking in terms of referring them to the things around was that I found that in Gujarat there is a brick decorative tradition. It is true with traditional art of Gujarat as well as of the new, I mean they are fond of decorating a surface, this kind of a thing. So a lot of students wanted to do decorative kind of painting. I myself having been familiar with the craft scene, I have not quarrelled with the question of course, but I thought that when you paint, probably the decoration should be the minor thing and there should be something else coming through it, the experience of the normal world, and that experience need not be always pleasant, it can be unpleasant. It may not be entirely removed and descriptive, it can be involved and emotive. I mean this kind of a thing. So, amongst them there were students and of course the kind of students who reacted to it here were, at that time one of the major names was Gulam Sheikh. Gulam Sheikh was one of the persons here, and there were some others in the painting department whose names I don't now too clearly remember. One died very recently, Vinod Patel, who used to be a person of talent, but he didn't do terribly much after a while because he got too addicted to drink, so he became sort of... Now, there were so many others. I mean, it was a general wave. I can't really pinpoint who all did what.
Vivan Sundaram?
Vivan Sundaram came much later. I mean, he came later.
In the '70s?
Ah, ah, in the end of the, ah, in the '70s, yes, at that time, but then this had started much earlier. Vivan Sundaram was there, then...
Bhupen.
Ah, Bhupen was there, though Bhupen was not a student of the painting department. He used to come and attend my lectures, and it did me good to see them all around, and that interaction was very useful. Anyway, whether this kind of a movement I am at the centre of it, I don't know. The whole question is it happened that way, and since I was talking to them almost every Saturday, those Saturday lectures probably made some kind of an impact on the generality.
And those you gave at home, didn't you?
Huh?
You gave those at home, the lectures?
No.
No?
In the faculty.
In the faculty, sorry.
Really speaking, I owe it to another teacher called Nasreen Mohamedi, though she was an abstract painter, but she was the person who used to organise these Saturday evenings - Saturday mornings. So she used to get people together and then we used to have a free-for-all discussion. I enjoyed it and I think some of them enjoyed it too, though it was not recorded at that time, and it was all related to various concepts and things of that kind, and what little I knew I shared with the others. But after that, I mean it used to work very well here. When I went to Santiniketan in '80, some people said why don't you start it there, but it didn't work out there too much. So the interest was not that much there like it was here, but it sort of grew. I mean, all these things can be discussed only after the students have a background of the sort of ideas they gained from knowledge in other lectures.
KG Subramanyan (1924-2016) was an Indian artist. A graduate of the renowned art college of Kala Bhavana in Santiniketan, Subramanyan was both a theoretician and an art historian whose writings formed the basis for the study of contemporary Indian art. His own work, which broke down the barrier between artist and artisan, was executed in a wide range of media and drew upon myth and tradition for its inspiration.
Title: Baroda – Saturday lectures and 'the experience of the normal world'
Listeners: Timothy Hyman
Timothy Hyman is a graduate of Slade School of Fine Art, London, in which he has also taught. In 1980 and 1982, he was Visiting Professor in Baroda, India. Timothy Hyman has curated many significant art exhibitions and has published articles and monographs on both European and Indian artists.
Duration: 4 minutes, 22 seconds
Date story recorded: 2008
Date story went live: 10 September 2010