NEXT STORY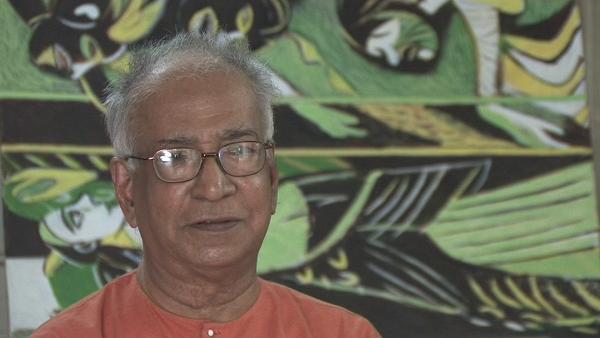 Stella Kramrisch
1
...
4
5
6
7
8
Do you think words like 'hybrid' are useful for east-west… or…
'Hybrid' takes for granted that there are two things which don't easily mix. Probably when you are thinking that one culture hits another, there is at a certain time a kind of a hybrid coming through, like in early Gandhara art for instance. Early Gandhara art you can see certain compositional sort of ideas which are local, but the figuration is Roman, muscular, this sort of a thing. There you can see the separate existence of two things which don't mix, but then later Gandhara art is quite sublime. It is as sublime as any other art. So it means that when two cultural elements try to hit each other, at one time one, if they are trying to merge, it takes them some time. Really speaking what happens is this experience transforms the general structure of the other, then it becomes original in itself, and that is what happened in Gandhara and that is what happens everywhere. So I think in one of the lectures of tradition and this thing I gave in Santiniketan I was trying to point it out. When the bazaar woodcuts of...
Kolkata?
Of Bengal have certain cubistic elements which have come naturally. I mean it is not that they even knew about this, but then that's transformed their sort of, their content as well as what they state. This is a thing that you can see, and I think that very often all art movements have somewhere where this kind of sort of conflict between two things come together and something fresh comes out of it. And so hybrid is a kind of a pundit for the pedantic, we will talk about, but then a certain amount of conflict to two separate things is always very useful for sort of art, and I think the kind of contact with the Roman or the Greek and Indian art was very useful for itself transforming itself.
And do you think something like that happened in Baroda?
Yes, I suppose so, and that was something which was even intended. In fact, that is what we intended, that this should be a kind of a clearing house for various ideas, and instead of one trying to sort of mixing it half-heartedly, it should transform its sort of general nature by this. That is it.
Do you think that might have been less easy to do in Santiniketan?
No, it is no...
Because it's less...
At one time it was so easy, but now it is not.
But it was less of a westernised town, wasn't it, Baroda?
Really speaking, Santiniketan in its early days didn't have this problem. It was easy for Ramkinkar to sort of take on western elements, or even Benode Bihari to understand the western kind of ideology. If you are thinking in terms of even Nandalal, he might have had a kind of a resistance to western things, but still he was responsive to gothic painting, he was responsive to all eastern painting, and there was nothing against it, and with the presence of Tagore, there was an openness at that time. But what happened later, after post Nandalal, it became a sort of a citadel for resistance for various other things, and keeping a certain kind of purity, and only after we started going there, then other things started. So I used to send students here for postgraduate training, and people used to come from here. So this happened, otherwise when it happened Santiniketan was the best place, and at that time the Kolkata art school people did not know about the basic European tradition as much as the people in Santiniketan knew because they had the material there to know.
KG Subramanyan (1924-2016) was an Indian artist. A graduate of the renowned art college of Kala Bhavana in Santiniketan, Subramanyan was both a theoretician and an art historian whose writings formed the basis for the study of contemporary Indian art. His own work, which broke down the barrier between artist and artisan, was executed in a wide range of media and drew upon myth and tradition for its inspiration.
Title: Hybrid art
Listeners: Timothy Hyman
Timothy Hyman is a graduate of Slade School of Fine Art, London, in which he has also taught. In 1980 and 1982, he was Visiting Professor in Baroda, India. Timothy Hyman has curated many significant art exhibitions and has published articles and monographs on both European and Indian artists.
Duration: 4 minutes, 49 seconds
Date story recorded: 2008
Date story went live: 10 September 2010