NEXT STORY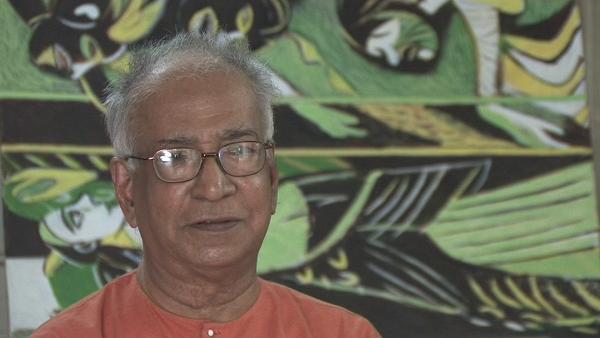 Leaving Baroda in 1980 – I was becoming like a mother hen
1
...
4
5
6
7
8
I mean, imagine Stella Kramrisch came from Vienna to Santiniketan I think in the early 1920s. Santiniketan, Kala Bhavan had her for a year lecturing on European traditions and things of that kind, and modern art. Probably she was also involved in that exhibition of the Blue Rider group, or a selection of their work which had come here. That all happened there, and Guru Dev was very fond of her, and I understand people tell the story of she had learnt ballet when she was young, and she tried to demonstrate it to him and she fell and sprained her ankle. Then anyway, she was not too happy in Santiniketan the way it was, so she moved to Kolkata, and then of course later in Kolkata she got this offer to be in that chair, Vageswari chair. So that is the time of course when she was studying the Hindu temples and did all those books on the traditional Indian art and became more and more of a, let us say theorist, and less and less of an art critic. Otherwise, she had a very, very keen eye. In fact, I think still her essay on Khajuraho house sculpture is one of the best I have seen on Khajuraho house sculpture, because there she separates that a certain kind of Khajuraho house sculpture is very linear and a certain other kind is more related to mass and things. But then later, like Ananda Coomeraswamy they all went into the theories and the background and the theoretical background of things and philosophies. Otherwise, her eye was very sound, and so was Ananda Coomeraswamy. She was a great connoisseur. There is no doubt about that.
KG Subramanyan (1924-2016) was an Indian artist. A graduate of the renowned art college of Kala Bhavana in Santiniketan, Subramanyan was both a theoretician and an art historian whose writings formed the basis for the study of contemporary Indian art. His own work, which broke down the barrier between artist and artisan, was executed in a wide range of media and drew upon myth and tradition for its inspiration.
Title: Stella Kramrisch
Listeners: Timothy Hyman
Timothy Hyman is a graduate of Slade School of Fine Art, London, in which he has also taught. In 1980 and 1982, he was Visiting Professor in Baroda, India. Timothy Hyman has curated many significant art exhibitions and has published articles and monographs on both European and Indian artists.
Duration: 2 minutes, 18 seconds
Date story recorded: 2008
Date story went live: 10 September 2010