NEXT STORY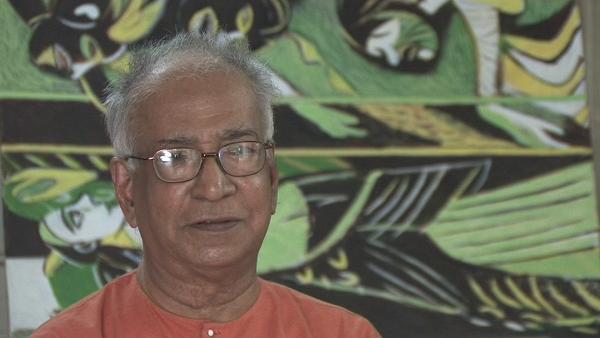 Changes in the art world – effects of the 'commodity-making process'
The Kolkata University lectures
1
...
4
5
6
7
8
Well, the next book called The Living Tradition, it came out of the compilation of certain other talks, both in Santiniketan and otherwise, and soon after I went to Santiniketan the Seagull brought it out and it was released in Santiniketan. Then after that the Kolkata University invited me to deliver, I think it was called some memorial lecture, and then I did five lectures for them. But it was not delivered in Kolkata because this university didn't have the funds to arrange the whole thing. So they first came with the suggestion, the registrar, of course there are four or five lectures but there is not enough money in it, you can put all the five into one lecture and we can arrange this. So I said look here, that is very unfair and person like me cannot do that. You can ask somebody else to do it if you want, but to me, five lectures means five lectures, and I can quite see that most of these endorsements have this problem. It is endorsed long, long ago, and the money provided is so little that you can't do it. So why don't you do this for me, arrange the lectures in Santiniketan and it will be shown here, there will be an audience here, or if you want to bring the audience, you can come. So finally that's how it happened. The Kolkata University lectures were delivered in Santiniketan in Ranbindranath, and Navin had already agreed to publish it. So The Creative Circuit is on the basis of those five lectures. Now recently, he has published that thing called Magic of Making, the collection of other articles which are around, which are on various topics, sometimes related to art and some on the general condition. If he gets all the texts together and Feshur Kumari [?] signs, all those writings I have done in Santiniketan or about Santiniketan artists and the other things which come together in another book I suppose, when it's ready.
KG Subramanyan (1924-2016) was an Indian artist. A graduate of the renowned art college of Kala Bhavana in Santiniketan, Subramanyan was both a theoretician and an art historian whose writings formed the basis for the study of contemporary Indian art. His own work, which broke down the barrier between artist and artisan, was executed in a wide range of media and drew upon myth and tradition for its inspiration.
Title: The Kolkata University lectures
Listeners: Timothy Hyman
Timothy Hyman is a graduate of Slade School of Fine Art, London, in which he has also taught. In 1980 and 1982, he was Visiting Professor in Baroda, India. Timothy Hyman has curated many significant art exhibitions and has published articles and monographs on both European and Indian artists.
Duration: 2 minutes, 41 seconds
Date story recorded: 2008
Date story went live: 10 September 2010