NEXT STORY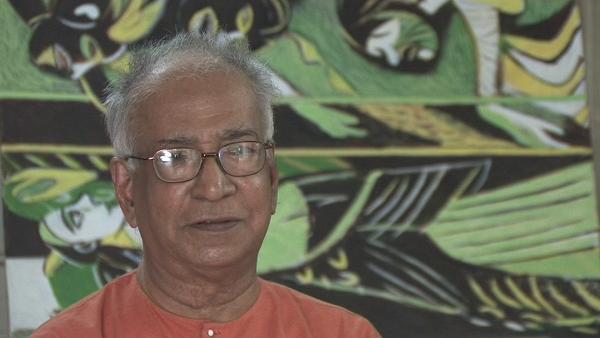 Space and depth in my paintings
Art and visual experience
1
...
4
5
6
7
8
You have written that at bottom, art renders visual experience. Would you stand by it?
I stand by it in the sense that if the visual experience is not meant to mean only things that you see with the naked eye, because there are various other kinds of visual experiences that may be in dreams we see various things, and then we imagine various things as we see them. So in that sense if you broaden it out I stand by it because this kind of cross reference to what you see, either by the eye or in the mind, this connection with the art is what gives it life. For me, that is why even if you are thinking in terms of the most abstract kind of works, again you do not enjoy it without its reference to something you have seen in the visual world, or something you can relate it to in the visual world. So I still stand by that, if you sort of broaden the reference, yes.
But it is striking that in that large book of sketches, scribbles, drawings, there aren't any drawings straight from... perceptual drawing.
That's right, there isn't. In fact, probably it is a kind of habit that I have come into through observing my teachers. Really Nandalal used to be one of the persons who wanted to draw from life, but he drew from life only small little scribbles. Then he developed then, even all his landscapes look so real, but they are all done like that. I mean he sort of more or less takes the general motive while he sees a thing, then he develops it, and later he has developed a kind of a theory saying that that's a kind of mind image that he has which if he does day to day it will have sort of new things coming through, even from that kind. On the other side, the other teacher I owe a lot to at that time was Benode Bihari. Really he had to sort of negotiate what he saw. With his kind of eyesight he couldn't see things which were very far. He could see things which are near quite well, and even then he had to take his eye very close to it. And between what he saw from near and what he saw in another place, I mean he had to work out a kind of system, and they all did it that way. So I also tried to do it that way and it became easier. The other thing probably was that I felt very uneasy to make somebody sit, or sit before a thing and do the thing straight away. And even when I tried in the beginning as a student, I thought I got certain things in which should not have been there and I couldn't get the whole motif or what do you call it. In fact, here I can probably refer to something Nandalal told me when I was still in the first or second year. I was at that time a kind of a tireless sketcher. I used to go round and fill sketchbooks full of things. So one day he wanted to see what I was doing, so I showed him. Then I thought that I did very well. I put in whatever I could get into the sketches. Then he looked at them and said you see, they are good. I mean you have done a lot of work, I am very pleased with it. They look a little like a launder's list. You have enumerated everything, but then you have probably missed something that way, you have put in too much. Then he used to always sketch a lot while moving around. He used to always have in his pocket a little bottle of ink with a brush in it, and also a lot of cards. He said I will give you something with which you may try to write, and he gave me a stubby piece of charcoal. He said now you draw with it. I tried that, and I saw the major change already. So I have mentioned it in one of my lectures saying that how, what we see and what we do of things we see, there is always an intermediary, like the tools we use and this sort of a thing, apart from the mind and the way of vision. So, I have always done so, even in the case, all these Chinese sketchbooks. I had a sort of a pad in which I used to try to recall what all I saw in the evening, but then they were not complete sketches, only some notes. All these were done after I returned to India, all those things. And so in the meanwhile I had noticed many of the images that went into my experience of China, and it came out reasonably well. I didn't have to throw away too many. Of course I do throw away sketches when they do not come to represent what I want to. Even when I sort of prepare for a painting, I cannot follow an initial drawing on the canvas, I always go on changing them, and then maybe it goes, the changes may go a long way, almost to seem that it is another painting that I am doing, that I do. But that exercise is very satisfying.
KG Subramanyan (1924-2016) was an Indian artist. A graduate of the renowned art college of Kala Bhavana in Santiniketan, Subramanyan was both a theoretician and an art historian whose writings formed the basis for the study of contemporary Indian art. His own work, which broke down the barrier between artist and artisan, was executed in a wide range of media and drew upon myth and tradition for its inspiration.
Title: Art and visual experience
Listeners: Timothy Hyman
Timothy Hyman is a graduate of Slade School of Fine Art, London, in which he has also taught. In 1980 and 1982, he was Visiting Professor in Baroda, India. Timothy Hyman has curated many significant art exhibitions and has published articles and monographs on both European and Indian artists.
Duration: 6 minutes, 40 seconds
Date story recorded: 2008
Date story went live: 10 September 2010