NEXT STORY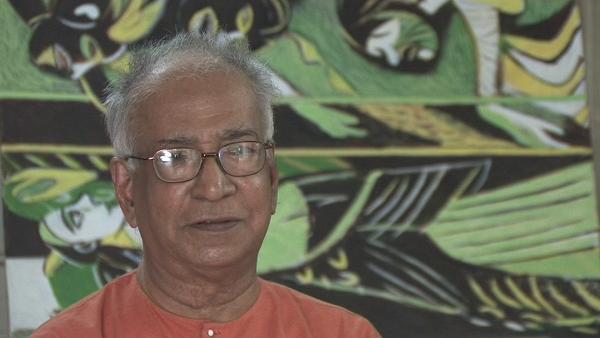 My mentors Mahatma Gandhi and Rabindranath Tagore
1
...
4
5
6
7
8
Siva Kumar, is – I think, in my opinion – among the young art historians. He is one of the best we have in this country, because he wanted to study art but then somehow it chanced that he was selected for art history and not art, and he was in Kala Bhavan's art history department when I went there from here, and he sought to help me in everything that I did there. So in a sense our close association has worked both ways. He has been a great help to me, and various things that I didn't want to do with my publications and proof read them and things of that kind, he always used to do. On the other hand, I think formally he used to be a little Geeta Kapurish in his writing, but it has opened out now. It is simpler, it's more lucid, and I suppose he is going to be one of the noted historians of his time. The only one thing that I regret is that he hasn't, due to some reason or the other, had a chance to go and see the other parts of the world long enough. Of late, he has had two sort of short visits to the United States, and also in connection with some exhibition or the other. But he is some person who can probably do a lot more if he spends some time outside and saw the various collections and what they do and interacted with people there. I don't see any other person, I mean within the country. I mean probably without the country there are many Indians are doing sort of a solid study. I don't know too much about them, but within the country he is one of the best that I can think of, and I am very grateful to him that every time that there is something I have to do, in fact my retrospective, he curated and he edited the catalogue. He did all the, even now, many of my books. I mean he tries to help me in putting together all the things. I do not find the energy enough to do all that. So to a certain extent our relations are terribly intimate, and he has a wonderful wife. Whenever I go to Santiniketan she thinks that it is her duty to supply me Kerala breakfast and she cooks and sends her husband with the breakfast early in the morning at 7:30. And now I see he has a bright son who is coming up who is studying there, he will be finishing school soon. Well, that's how things are. At the moment, immediately, she is not in good health. She had I think some malignancy in her breast, so she is under treatment, but she will come through.
KG Subramanyan (1924-2016) was an Indian artist. A graduate of the renowned art college of Kala Bhavana in Santiniketan, Subramanyan was both a theoretician and an art historian whose writings formed the basis for the study of contemporary Indian art. His own work, which broke down the barrier between artist and artisan, was executed in a wide range of media and drew upon myth and tradition for its inspiration.
Title: Siva Kumar
Listeners: Timothy Hyman
Timothy Hyman is a graduate of Slade School of Fine Art, London, in which he has also taught. In 1980 and 1982, he was Visiting Professor in Baroda, India. Timothy Hyman has curated many significant art exhibitions and has published articles and monographs on both European and Indian artists.
Duration: 3 minutes, 40 seconds
Date story recorded: 2008
Date story went live: 10 September 2010