NEXT STORY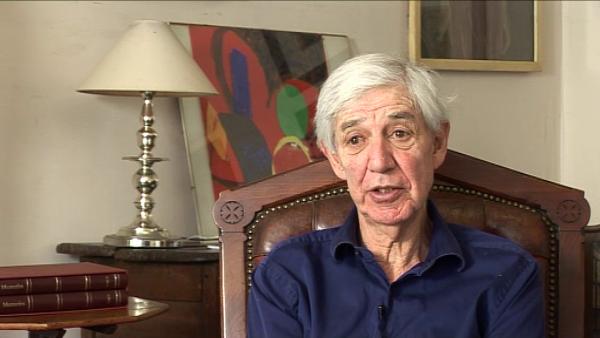 French Flag Model
Sydney Brenner and Francis Crick
1
2
3
4
At Serbelloni I put forward the French Flag Model and put forward the idea that the way cells could know their position, is if there were a graded signal from one end of the flag to the other or along the line of cells and then the cells of various thresholds would know their position. And that went down rather... it went down very well at Serbelloni and in fact, Brian Goodwin — who unfortunately recently died — and Morell Cohen, actually came up with the model — which I don't want to go into — which would work. And then later that year, I went to a meeting at Woods Hole, at the marine station — I was doing some work on sea urchins there — and I gave one of the big Friday night lectures in which I spoke about my...my model about positional information and gradients. It was a total and utter disaster. At the end of my lecture no one would speak to me. At the coffee afterwards I was just left alone and next morning I went... said to a friend of mine, 'What is going on?' and this friend of mine was saying, 'They're saying, 'Who in the hell do you think you are?' That's what they're saying. They hated the idea of gradients'. I was severely depressed, but miraculously, I was saved. And I was saved by the only genius I know, Sydney Brenner. Sydney is a fellow South African who I knew... he was at university at the same — I didn't know him well — but I knew him in South Africa, and in fact... they used to have a special discussion group to discuss... things. And there were some of us who could discuss and there're others, like me, who could listen but not discuss. And Sydney met me bathing in the water and I told him, he said — he was there — he said: 'Lewis, pay no attention whatsoever to what they're saying. Francis Crick and I like your ideas, pay no attention whatsoever'. And Sydney Brenner saved me. It... it really was miraculous. Why were people so against it, do you think? People were very against my ideas because there had been other people, like Child, who'd put forward ideas about gradients and they simply hated it. Just why they hated it so much is really... is really not clear and it took another 20 years before — about that time — before Americans began to take my ideas seriously. Anyhow, Sydney encouraged me and I wrote a paper... I wrote it up, a paper for the Journal of Theoretical Biology and it's my most quoted paper. And there's no paper… It was an enormous success and then Francis Crick, on the basis of my paper, wrote a paper saying: 'The way this gradient, or the way the cells would know their position along the line, was by diffusion' and that was a major... step forward. And he published that paper in Nature. And so... that really made a big difference to my life, being supported by Francis and Sydney really was very, very, very important.
Lewis Wolpert (1929-2021) CBE FRS FRSL was a developmental biologist, author, and broadcaster. He was educated at the University of Witwatersrand (BSc), Imperial College London, and at King's College London (PhD). He was Emeritus Professor of Biology as applied to medicine in the Department of Anatomy and Developmental Biology at University College London. In addition to his scientific and research publications, he wrote about his own experience of clinical depression in Malignant Sadness: The Anatomy of Depression (1999).
Title: Sydney Brenner and Francis Crick
Listeners: Eleanor Lawrence
Eleanor Lawrence is a freelance science writer and editor, and co-author of Longman Dictionary of Environmental Science.
Tags: Serbelloni, Journal of Theoretical Biology, Nature, Brian Goodwin, Morell Cohen, Sydney Brenner, Francis Crick, Charles Manning Child
Duration: 3 minutes, 29 seconds
Date story recorded: April 2010
Date story went live: 14 June 2010