NEXT STORY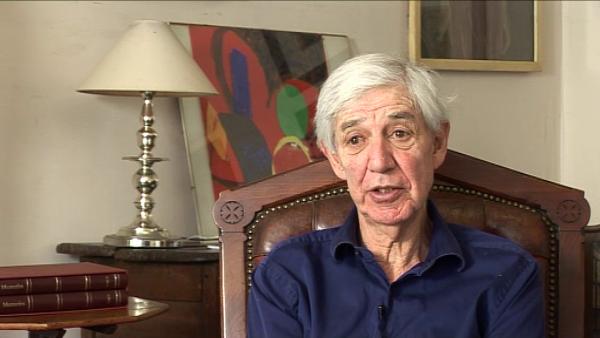 The little-understood question of cells' positional identity
1
2
3
4
One of the areas that I avoided when I was thinking about belief is consciousness. I usually say that the word consciousness cannot be used in my presence unless I give you a permit. I think all the... all the statements about consciousness I... I do... do not find... very helpful. I... Of course having a concept of cause and effect does require you to be conscious. Well, yes, it does require you to be conscious, but I really don't understand consciousness at all, it's... it's all too hard. Ironically — and it is a bit of irony — that although I... I started off as an engineer, my son, Daniel Wolpert, started off as a doctor, and ended up as a neuroscientist; but he is now professor of engineering in Cambridge, working on motor control. And I think that's very... I think that's getting the thing. How one moves and how one determines how to move, is absolutely fundamental in understanding how the human brain functions. And in fact I have argued that the only function of the brain is to control movement. I know that if you're a poet you don't think that, but if you can't get the words out —that is, which you... which come from movement — then you'll never know that anyone has actually written a poem, or... or anything else. So movement is absolutely fundamental, and that's what he works on. But I don't really fully understand his topic; it's too... it's too tech... it's too technical for me. And that's also a feature that affected my life. We did a lot of work on developmental biology of the limb and different thing, but, when it came to molecular biology, and identifying the genes involved, I really was not very good, or to put it mildly, I was very bad. I think molecular biology simply... and modern molecular biology and gene arrays and... really pass me by, and I have no skills in that area what... whatsoever. But one of the things that recently has struck me is that how few genes may actually be involved in development, that most of the genes that we have are really to keep ourselves functioning rather than to determine how we develop. The numbers, when... in any single case where the number of genes... where there's been an attempt to decide how genes many are involved, it's a... in a particular developmental process, the numbers have been remarkably small, much less than 10% of the total genome.
Lewis Wolpert (1929-2021) CBE FRS FRSL was a developmental biologist, author, and broadcaster. He was educated at the University of Witwatersrand (BSc), Imperial College London, and at King's College London (PhD). He was Emeritus Professor of Biology as applied to medicine in the Department of Anatomy and Developmental Biology at University College London. In addition to his scientific and research publications, he wrote about his own experience of clinical depression in Malignant Sadness: The Anatomy of Depression (1999).
Title: Consciousness
Listeners: Eleanor Lawrence
Eleanor Lawrence is a freelance science writer and editor, and co-author of Longman Dictionary of Environmental Science.
Tags: Daniel Wolpert
Duration: 3 minutes, 9 seconds
Date story recorded: April 2010
Date story went live: 14 June 2010